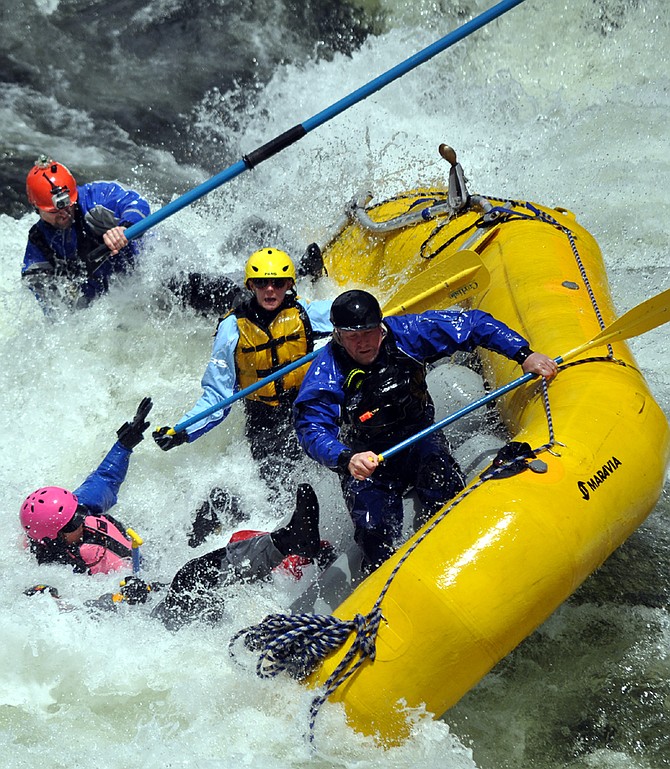 Photo by David Rauzi
Participants were spilling over the side in the 2013 Lochsa River Madness event.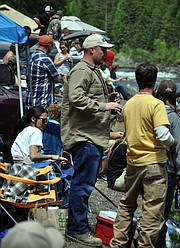 How wild will it get? Will they keep it together, or is someone in for a dunking? It's largely about the spectacle of it all, so how you ride it or how well you spill will determine the adoration or jeering from the spectators watching it all from on high.
That sounds a little crazy, which is probably why they call it Lochsa River Madness. And coming this Memorial Day Weekend, Idaho County's annual event to kick off whitewater rafting will draw enthusiasts to celebrate the start of the season, and enjoy a fair share of fun and chaos as well.
Marty Smith, outfitter and owner of Three Rivers Rafting, provides guided whitewater raft trips on the Lochsa. He has been a longtime participant in this largely unpublicized event that could be termed more of an informal gathering than an actual planned and organized activity. With Madness coming up this weekend, the Free Press asked Smith about its background and what those planning to attend could expect.
••
-What is Lochsa River Madness?
"It's just coming to the Lochsa River for Memorial Day Weekend to go boating. It's been the most popular weekend for decades, mainly because it coincides with the highest flow on the Lochsa and it is a holiday weekend allowing people to have the time to come out."
For Saturday and Sunday, and a small portion of Monday morning, participants will see hundreds of boats; guided and non-guided paddle rafts, as well as catarafters and kayakers. "It is "the" weekend to run the Lochsa."
-Where is this? Why here?
"The Lochsa is a world-class river and it sits right here in Idaho County. The wave at Lochsa Falls is perfect for watching the boats, and it is usually at a high flow and difficult to navigate on Memorial Weekend. Lochsa Falls is near milepost 114 on U.S. Highway 12."
-What's the draw for participants? Spectators?
"It is very social, the boaters camp out upriver and get to float together. Lots of them have already been boating this season, but it is the start of the season for some."
"The crowd that watches are like vultures; sometimes, they boo when the boats make it upright and cheer when they surf or flip. The boaters start to play to the crowd. And the crowd is very social with BBQs and picnic baskets and coolers, etc."
The event runs through the weekend but with no planned start or finish times. Parking can fill up, Smith advised, "so bring a chair and a camera and enjoy the show."
-How else can you watch?
"I started posting YouTube videos 10 years ago called Lochsa River Madness under the name IdahoLocal [www.youtube.com/user/IdahoLocal]. People call them carnage videos and you can watch and see all the flips and surfs. Another group, the Idaho Whitewater Association, started a campout at Wilderness Gateway a couple years ago called Lochsa River Madness, so they show some videos there at night over the weekend."
 "We will be out there on Memorial Weekend and have seats available by calling 926-4430."