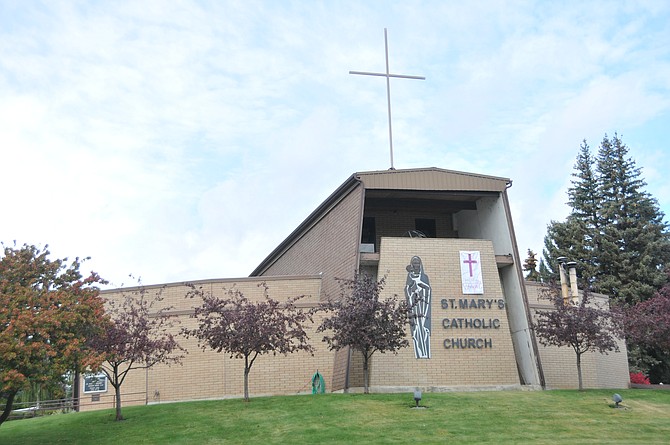 Photo by David Rauzi
Community Staple St. Mary's Catholic Church in Cottonwood is located at the center of town, on King Street. The church is pictured here. Call 962-3214 to reach the parish.
Faith Lutheran continues Bible studies, services
KAMIAH — Faith Lutheran church at 605 Idaho St. in Kamiah has worship service every Sunday at 11 a.m., followed by fellowship time with refreshments. All Saints Day will be honored Sunday, Nov. 6, and will be beginning Advent on Sunday, Nov. 27.
Bible studies continue on Thursdays with men meeting at 7 a.m., at the bakery and women at the church at 10 a.m.
Contact Pastor Gail Hart at 790-4515.
Fall dinner and bazaar set for Nov. 13 at Kamiah
KAMIAH — The annual Fall Dinner and Bazaar is set for Sunday, Nov. 13 at St. Catherine's Parish Hall, 7th and Idaho streets, in Kamiah. The doors will open at 11:30 a.m. for those interested in playing Bingo or viewing the items in the Silent Auction and Country Store.
A turkey dinner that includes dessert and beverage will be served from 11:30 a.m.-3:30 p.m. Dinner tickets are available at the door. Adult tickets $8, children 8 and younger $4.
The Country Store will feature crafts and homemade treats. In addition to Bingo, other activities will include children's games, face painting and drawing for prizes. Tickets for the prize drawing may be purchased the day of the bazaar or in advance from any parishioner. The prize drawing is scheduled for 3:30 p.m. on bazaar day.
The Silent Auction will be conducted during the dinner with bids accepted until 3 p.m. Numerous quality items will be available for auction.
This annual fund-raising event is coordinated by St. Catherine's Altar Society.
Thanksgiving Victory Celebration to be held Saturday, Nov. 12
GRANGEVILLE – A "Thanksgiving and Victory Celebration" will take place at the Grangeville Senior Citizens Center Saturday, Nov. 12, noon to 4 p.m. This will include praise and worship time and gospel music.
Angela Lougee, a missionary originally from Nigeria, Africa, will be the speaker. The event includes a "Taste of the Philippines Dinner: hosted by Dan and Lorie Wilson of Tabitha's Barbershop. The event is free to the public.
Assumption Parish dinner will be held this Sunday, Nov. 6
FERDINAND — Assumption Parish of Ferdinand will be holding its annual dinner and raffle on Sunday, Nov. 6, at the Ferdinand parish hall. A roast beef and ham dinner with all the trimmings will be served from 11:30 a.m. to 4 p.m. Cost for adults is $10, kindergarten through sixth grade is $5, and preschool and younger eat for free. The raffle drawing will begin at 4 p.m. with more than 30 chances to win. Bingo will be played all day.
'Going Deeper' event set at E-Free Church in Grangeville
GRANGEVILLE — Centennial Evangelical Free Church will be hosting another mini retreat, "Going Deeper" is set for Nov. 5 from 9 to 11 a.m., at 408 North College. The morning will feature a continental breakfast, praise and worship, with women sharing brief stories about "Paying the Price" of obedience in following Christ and a time of discussion around the topic. There is no charge for the event and no child care is provided. All teen girls and women are invited to attend. Contact Debbie Ewing at 816-8355.
Nazarene Church sets activities
GRANGEVILLE – Grangeville Church of the Nazarene, 515 W. N. 2nd Street, has a variety of upcoming activities set.
•Ladies Bible study is held each Thursday at the church, 9-11 a.m.
•Men's Bible study is set for Thursdays, 4 p.m., Crema Café.
•The monthly men's breakfast will be held this Saturday, Nov. 5, 7 a.m., at the church.
•Operation Christmas Child shoe boxes will be collected through Thursday, Nov. 17. Details are at the church.
•The Community Thanksgiving Dinner is set for Sunday, Nov. 20, 2 p.m., at Grangeville Elementary Middle School. The meal is completely furnished by church members and all are encouraged to attend.
•Choir practice is held each Wednesday, 6:30 p.m., and Bible study is at 7 p.m.
•Sunday services are 9 a.m., Sunday School for all ages is 10:30 a.m., and worship service is 6 p.m.
Contact the church at 983-0552 or interim Pastor Bob Hislar at 983-2144.