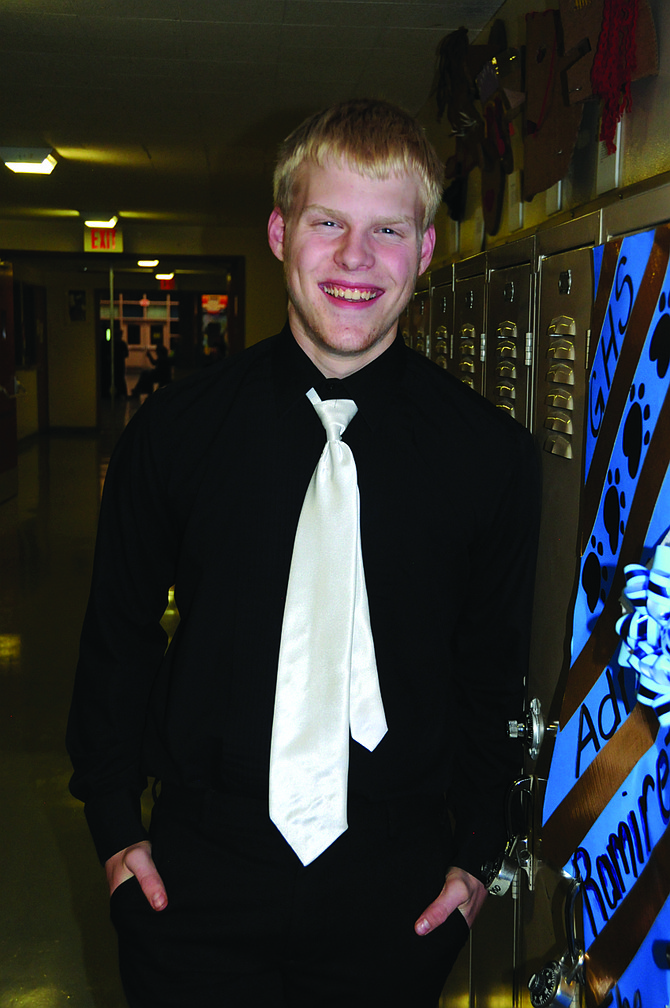 Photo by Lorie Palmer
Morgan Pilant is working on the annual Veterans Day ceremony as part of his senior project at Grangeville High School.
GRANGEVILLE — A shout out to all local veterans: We want you.
That's the message coming loud and clear from Grangeville High School.
The annual GHS Veterans Day assembly is set for Friday, Nov. 11, 10 a.m., in the school's gymnasium. This year's guest speaker is veteran Larry Adams from Kamiah.
"This is our time to honor those local men and women who have served in the military," said GHS history teacher Pat Sullivan. He has been organizing the event for a number of years.
This year, senior Morgan Pilant has taken on the event as part of his senior project.
"I wanted to do the this as my senior project because I want to show my support for all the veterans who have ever served and who are currently serving," Pilant said. "I just want to show my respect for them. My great-grandpa served in WWII and I never took the time to get to know him and I feel that doing this project helps me be closer to him."
Pilant has been involved in a variety of GHS activities including Varsity Blue Choir, football and drama.
"After graduation I plan to attend Lewis-Clark State College and get my major in theater arts and get a minor in criminology so I can become a police officer," he said.
All veterans are encouraged to call or e-mail Sullivan at GHS: 983-0580 or sullivanp@sd244.org; or call Pilant at 983-9527 to RSVP. This is for a head count, to get names down properly and provide enough chairs for veterans.
All veterans attending should be at the school between 9:30 and 9:40 a.m. Nov. 11 and check in at the library.
Other Veterans Day Events
•COTTONWOOD— The Cottonwood School District will present a program for Veterans on Friday, Nov. 11, 9 a.m., in the Prairie Jr. Sr. High School Gym. All veterans and their family members are invited. Parents and the public are welcome to attend, too. The FFA will be providing a free breakfast for the veterans starting at 7 a.m., on the stage in the gym.
A slide show to honor veterans is being prepared. Some photos are available from previous years; however, additional photos are sought. E-mail photos to Laurie Karel at karel@sd242.org by Nov. 9.
This year at the Veterans Day program, 15-20 veterans will be recognized with a Quilt of Valor made for them.
•KAMIAH – The Auxiliary to the Veterans of Foreign Wars, Post 5407, will be holding its annual Veterans Day chili feed Friday, Nov. 11, 10:30 a.m. to 2 p.m., at the post, 3376 Tamarack, Kamiah. This annual activity is held to honor veterans and is free of charge. Others can donate $5 per person to help offset costs. Call Carolyn at 926-4795 or Cathie at 935-7925.