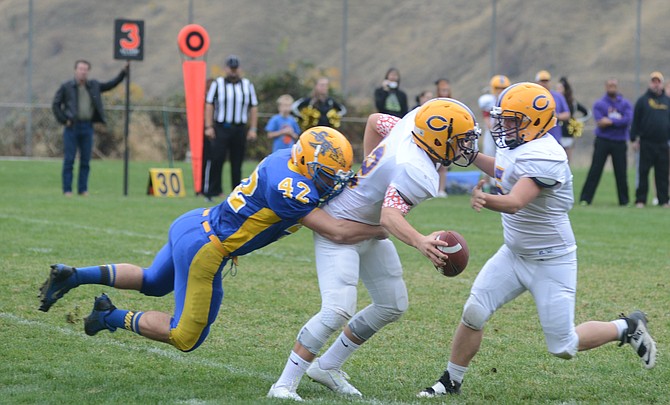 Photo by Andrew Ottoson
A very long day for Cascade's offense began with Salmon River's Gabe Gonzalez terminating their opening possession with a solo sack.
RIGGINS — Salmon River had no problem with Cascade — not until the last few minutes, when, after sending out their JV boys, the Ramblers picked up their physical play.
It was the second time the SRHS JVs took the field; on one play late in the first half, three Cascade players had gone down with injuries, after which both sides substituted for the last four minutes of the second quarter.
The Savages had dominated — they were up 52-0 in the third quarter — but Cascade took advantage to score two quick touchdowns.
After a heavy collision during the fourth quarter, Salmon River's varsity returned to the field and pushed the final score to 68-14.
Salmon River's first five touchdowns came on passing plays, with Tucker Boyd delivering four and Devan Branstetter throwing another.
Ethan Shepherd threw one to Eric Fletcher late in the first half, with Fletcher having run one in.
Cascade scored on a 75-yarder, and Stephen Hackler ran back the ensuing kickoff 72 yards for a touchdown in response.
After Cascade scored another long touchdown, the Salmon River varsity tallied a seven-yard run by Canyon Harper.
The win kept Salmon River undefeated in the Long Pin Conference — and kept up a league win streak that dates back to 2014.
Up next, Salmon River (8-1 overall) is slated to host Deary at 1 p.m. MT this Saturday, Nov. 6.
Lapwai swipes WPL title as Prairie slips to 7-2
COTTONWOOD — The Pirates opened the scoring last Friday night, Oct. 28, but Ivory Miles-Williams reversed the momentum and put Lapwai on the path to a 54-40 win over Prairie on the last night of regular season play last Friday, Oct. 28.
Lucas Wemhoff scored two rushing touchdowns, Brandon Anderson scored three receiving touchdowns, and Spencer Schumacher threw four passing touchdowns.
Prairie trailed 54-26 in the fourth quarter before Schumacher found Anderson for a 35-yarder and Hunter Chaffee for a 53-yarder.
 Up next, because the loss knocked Prairie (7-2) from the Whitepine League's top seed down to third, the Pirates now face a major roadtrip to Notus, where they'll play at 3 p.m. MT on Saturday, Nov. 5.
CV, Kamiah seasons end
Clearwater Valley's season ended with a 54-20 loss to Genesee; Kamiah's ended with a 40-32 win over Potlatch.