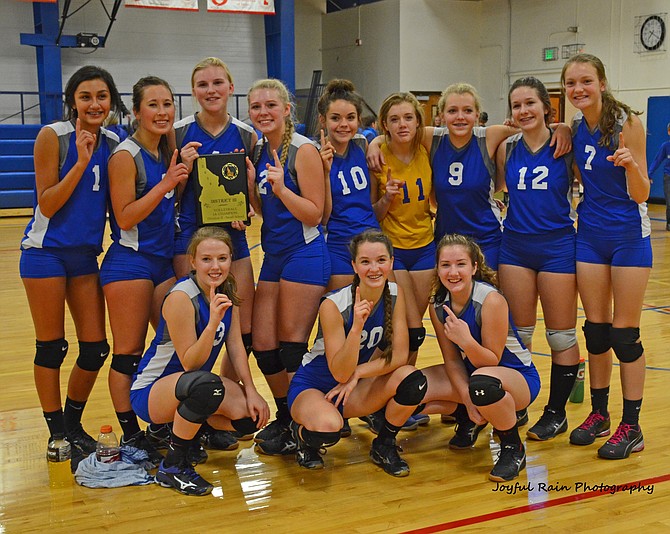 Joyful Rain Photography / Joy Swift
The District III champion Salmon River girls went 1-2 at the 1AD2 state tournament last weekend in Idaho City, where they took eventual state champion Lighthouse Christian to five sets during the first round. Pictured are (back row, from left): Emily Diaz, Maddy Tucker, Sarah Laritz, Miranda Hofflander, Alexis Pottenger, Taylor Ledgerwood, Sydnie Scuka, Tehya Gubitosi, and Jessica Harden; (front row) Payton Branstetter, Chevelle Shepherd and Marissa Gubitosi.
IDAHO CITY — Salmon River supporters regarded the quarterfinal of the 1AD2 state tournament held last Friday, Oct. 28, at Bonneville High School, as the match of the tournament, as the Savages took eventual state champion Lighthouse Christian to five sets.
Though they started with two narrow wins, the Salmon River girls ultimately were bounced to the consolation side of the bracket 3-2 (23-25, 23-25, 25-17, 27-25, 15-5) as Lighthouse rallied. Salmon River swept Logos 25-15, 25-10, 25-19, but was eliminated by Dietrich Friday night, in four games, 25-10, 19-25, 25-22, 25-17.
Against Lighthouse, Salmon River's attack in the middle vexed the Lions; the Savages took it to match point during the fourth, 24-22, but Lighthouse survived the set by winning five of the next six points and carried that surge into the tiebreaker.
Salmon River finished with a 17-3 overall record.
Pirates top Ambrose; season ends vs. Challis
RIGBY — Prairie's run at the 1AD1 state tournament included a consolation bracket win over Ambrose last Friday, Oct. 28, and losses to eventual runner-up Horseshoe Bend and Challis.
Prairie finished 15-13.