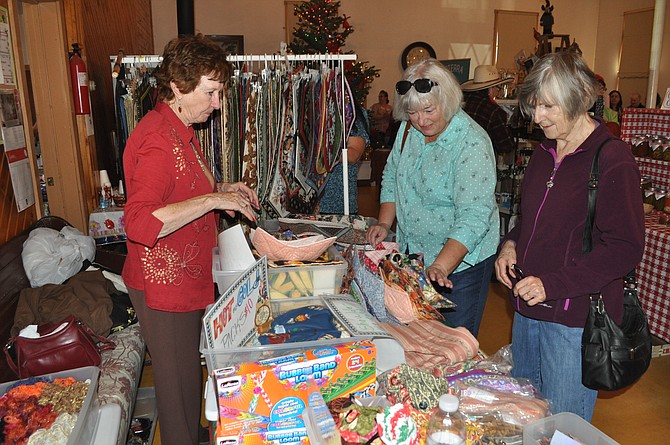 Photo by David Rauzi
Harpster's 28th annual Christmas Craft Fair was held last Saturday, Nov. 5, at the Harpster Community Building. Here, attendees check out a selection of the many homemade craft, gift and food items that were being sold throughout the day. Proceeds from the event help benefit upkeep on the community building.
Dominguez to host Q&A on use of force policy
KOOSKIA — Clearwater Valley PTSA will host a question and answer session with Mountain View School District 244 board chair Mike Dominguez about the proposed "Use of Force" policy. This will take place Monday, Nov. 14, 6:30 p.m., at the CVES library. Snacks and refreshments will be served. Call 926-0901.
Free lunch set for Nov. 10 in Kamiah
KAMIAH — November's free community lunch in Kamiah will be held Thursday, Nov. 10, and will feature ham sandwiches, coleslaw, baked beans with pumpkin and apple pie for dessert. The lunch will be served at the Presbyterian Church at 7th and Hill streets from 11 a.m. until 12:30 p.m. Everyone is welcome to attend and the venue is handicap accessible.
VFW Auxiliary will meet Nov. 12
GRANGEVILLE — The Grangeville American Legion Auxiliary meeting will be held Saturday, Nov, 12, noon, at the Idaho County Veterans Center, 318 E. Main. All interested women are invited as the auxiliary is welcoming new members who have an immediate family members who are veterans, to help with service programs. Lunch will be provided. Plans for the December Christmas party will be discussed. For information contact secretary Pearl Bentley at 983-4417.
GHS, GEMS to host Veterans Day events
GRANGEVILLE – The annual Grangeville High School Veterans Day assembly is set for Friday, Nov. 11, 10 a.m., in the school's gymnasium. This year's guest speaker is veteran Larry Adams from Kamiah. Senior Morgan Pilant has taken on the event as part of his senior project.
All veterans are encouraged to call or e-mail teacher Pat Sullivan at GHS: 983-0580 or sullivanp@sd244.org; or call Pilant at 983-9527 to RSVP. This is for a head count, to get names down properly and provide enough chairs for veterans.
Grangeville Elementary Middle School will host its Veterans Day assembly Friday, Nov. 11, 1 p.m., in the gym. The community is welcome to attend. This will include an honor guard from the American Legion, some songs from students, folding of the flag and an explanation of the meaning of Veterans Day by the American Legion as well as the playing of Taps.
Cottonwood veterans invited to free breakfast
COTTONWOOD — All veterans are welcome this Friday, Nov. 11, as the Prairie High School FFA will be sponsoring a breakfast for all veterans starting at 7 a.m. at the Prairie Junior Senior High School gym, prior to the school's Veterans Day program.
4-H group to host bake sale, take pie orders
GRANGEVILLE – Lively Livestock 4-H Club will be host to a bake sale Saturday, Nov. 19, 8 a.m. to 3 p.m., at Asker's Harvest Foods. They will be taking pie orders for Thanksgiving on the day of the bake sale, as well.
Scouting for Food pickup in Grangeville on Saturday, Nov. 12
GRANGEVILLE – Boy Scout Troop 555 will be picking up nonperishable food items this Saturday, Nov. 12, as part of the annual Scouting for Food drive. Door hangers soliciting for donations were placed across town last weekend for Grangeville residents to place goods in a recycled bag or box and place this in view of the street by 9 a.m. Saturday. Food items can also be dropped off at the troop's table that day at Cash and Carry Foods.
Fall dinner, bazaar set for Nov. 13 at Kamiah
KAMIAH — The annual Fall Dinner and Bazaar is set for Sunday, Nov. 13 at St. Catherine's Parish Hall, 7th and Idaho streets, in Kamiah. The doors will open at 11:30 a.m. for those interested in playing Bingo or viewing the items in the silent auction and Country Store.
A turkey dinner that includes dessert and beverage will be served from 11:30 a.m.—3:30 p.m. Dinner tickets are available at the door. Adult tickets $8, children 8 and younger $4.
The Country Store will feature crafts and homemade treats. In addition to Bingo, other activities will include children's games, face painting and drawing for prizes. Tickets for the prize drawing may be purchased the day of the bazaar or in advance from any parishioner. The prize drawing is scheduled for 3:30 p.m. on bazaar day.
The silent auction will be conducted during the dinner with bids accepted until 3 p.m. Numerous quality items will be available for auction.
This annual fund-raising event is coordinated by St. Catherine's Altar Society.
Thanksgiving Victory Celebration set for Nov. 12
GRANGEVILLE – A "Thanksgiving and Victory Celebration" will take place at the Grangeville Senior Citizens Center Saturday, Nov. 12, noon to 4 p.m. This will include praise and worship time and gospel music.
Angela Lougee, a missionary originally from Nigeria, Africa, will be the speaker. The event includes a "Taste of the Philippines Dinner: hosted by Dan and Lorie Wilson of Tabitha's Barbershop. The event is free to the public.
'Operation Christmas Child' box packing party is Saturday in Harpster
HARPSTER — ALACCA Bible Camp will host an Operation Christmas Child packing party Saturday, Nov. 12, beginning at 1 p.m., and running until everything has bene packed. The camp is an area collection location for shoeboxes during the week of Nov. 14-21.
People around the country will transform 9.5 million empty shoeboxes into gifts of hope filled with school supplies, hygiene items, notes of encouragement and fun toys, such as a doll or soccer ball. Operation Christmas Child, a project of Samaritan's Purse, will deliver these shoebox gifts to children overseas living in extreme poverty or affected by war, disease and natural disaster.
The event is free; people attending can bring items and/or shoeboxes to pack for the packing party. To find a list of what to pack in a shoebox, visit https://www.samaritanspurse.org/operation-christmas-child/pack-a-shoe-box/.
Dinner set for Sunday in White Bird
WHITE BIRD – This Sunday, Nov. 13, at the IOOF Hall, The Rebekahs will be holding their annual Thanksgiving turkey dinner at noon. Adult price is $7; 6-12 are $4 and 5 and younger will be charged $2. Bingo will start at 10 a.m., and a handmade quilt will be raffled off later in the day. Tickets for this will be $1 for one, or six for $5 donation.
Blood drive set for Riggins Nov. 15, 16
RIGGINS — Riggins Fall Red Cross Blood Drive will be held at the Salmon Rapids Lodge, 1010 South Main Street, Tuesday, Nov. 15, 2-7 p.m., and Wednesday, Nov. 16, from 8:30 a.m.-l p.m.
To make an appointment, download the Red Cross Blood Cross Donor App, visit redcrossblood.org, call 1-800-Red Cross (1-800-733-2767), or call locally Kris at 628-3572 or Joy at 628-3224.
Donors are encouraged to make appointments and complete the RapidPass online health history questionnaire at Redcrossblood.org/RapidPass to save time at their appointment. For those without computers, the health history questionnaire is available at the Salmon Rapid Lodge, Riggins Red Cross Blood Drive site.
Clearwater Meal Center luncheon set for Nov. 16
CLEARWATER – The Clearwater Meal Center's next luncheon is set for Wednesday, Nov. 16, noon.
Meals are served the first and third Wednesdays of each month at the Clearwater Baptist Church. No charge for the luncheon, $5 donation appreciated when possible. All are welcome. Call 926-7776.
Summit to host Veterans Day program Dec. 1
COTTONWOOD – Summit Academy will hold its Veteran's Day Veteran's Day program Thursday, Dec. 1, 10:30 a.m., with a presentation and free lunch to follow.