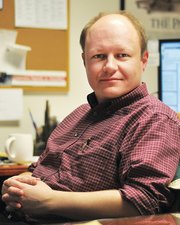 Honoring veterans in Idaho County isn't something we wait on every November; people here do this all the time. The region has a strong veterans' community that keeps remembrance traditions alive and commemorated, and youth are brought up in the respect for their service and are instrumental in organizing annual recognition events.
That being said, we can always find more ways to thank and support veterans. Here are a few suggestions that are easy to implement and would mean a lot to a military service person.
Challenge yourself to send a card to someone currently serving each month. Your neighbors or your neighbors' neighbors have someone deployed out there now, and all you need is a mailing address a card and a few minutes to let them know you're thinking of them. Of course, a card is great, but check on whether a care package of games, books and goodies would help boost morale even better.
Making this easier, check with veterans' associations online, such as the American Legion, to see whether they offer e-card options that you can fill out and send with just a mouse click.
On that line, Blue Star Families sponsors Operation Appreciation for community organizations, church groups and families to encourage and thank service members overseas. Find out more through here: https://bluestarfam.org . Another option is to "adopt" a service member and care for deployed, returning or wounded services members. Check that out here at http://soldiersangels.org .
Of course, the best options start local. Check with the newly opened Veterans Outreach and Community Center in Grangeville, a long-needed resource for this community and region. They'll have good ideas where to start, whether with a local person you can be supporting or perhaps family that are waiting for a loved one to return home from deployment. Contact them at 983-1033 or on their Facebook page.