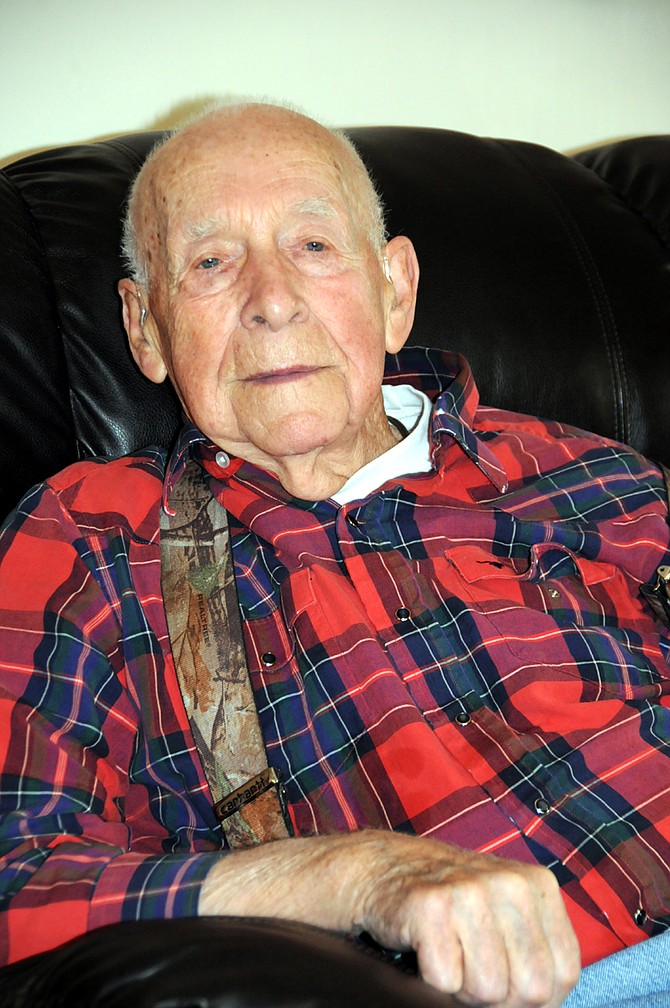 Photo by Lorie Palmer
Larry Wassmuth relaxes in his living room easy chair.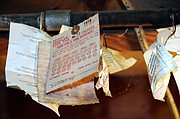 GRANGEVILLE — As trees change color, rain falls and autumn makes its way to the Camas Prairie, a lifetime of hunting is recalled in Lawrence Wassmuth's home.
In the basement of his house, the overhead water pipe holds the history of decades of hunts through paper and wire Fish and Game tags. The wires of the yellowing paper tags are twisted around the pipes and include the names of Larry and his three sons.
"I don't know why – we just put them up there," Larry, who will be 96 in December, said.
Larry and Dorothy Wassmuth had six daughters and three sons. He worked as a sawyer at the mill in Grangeville five days and week, and then completed millwright duties on Saturdays.
"We hunted on Sundays, or once in a while I took a Saturday off," he said. He and his sons caught fish and hunted deer and elk, a necessity in feeding a large family.
"The kids didn't even want to eat beef," he smiled. "The game meat was so lean and good."
The Wassmuth home was built in 1950 and added onto in the '60s to make room for a dining room table that would fit 11.
"There was a new baby about every couple years," Larry said.
Son, Steve, who is a teacher at Grangeville Elementary Middle School, said he never realized a new child was on the way until his aunt showed up to help at the house.
"I wasn't very observant I guess," he laughed.
Larry was born between Greencreek and Cottonwood and attended grade and high school in Greencreek, growing up on the family farm as one of 12 siblings. All but one brother remained about 15 miles from their birthplace throughout their lives. He served in the Navy for two years, aboard an aircraft carrier in the Pacific. Dorothy grew up in Illinois but came to Greencreek to visit her brother. Larry and Dorothy met at a dance there.
"We only knew each other six months before we married, but we were married 66 years before she passed away," he smiled.
In the '70s, Larry built an elevator in his home so his wife, who had arthritis, could more easily take laundry and other items to the basement where the washer and dryer were located. The large meat freezers as well as meat cutting tables are also in the basement.
The Wassmuths raised two large gardens and Dorothy did "a lot of canning," Larry and Steve recalled.
Although it's been about a decade since he downed his last elk, Larry is healthy and active and talks frequently to all of his children. During the World Series he keeps in especially close contact with son, Jim, whom he "bets" on the games with.
"What's the most you've ever won, Dad?" asked Steve.
"Well, about $4," Larry laughed. "But it's the principle."
Daughter Rosalie Jessup said her father has an amazing memory.
"He calls me and reminds me to do things," she laughed.
The tags hanging from the water pipe represent days gone by, but although he enjoys reminiscing, Larry doesn't live in the past. He attends church, Eagles breakfasts and has been watching the presidential debates – though he has already voted.
How does he sum up his life so far?
"Great. The very best," Larry smiled.