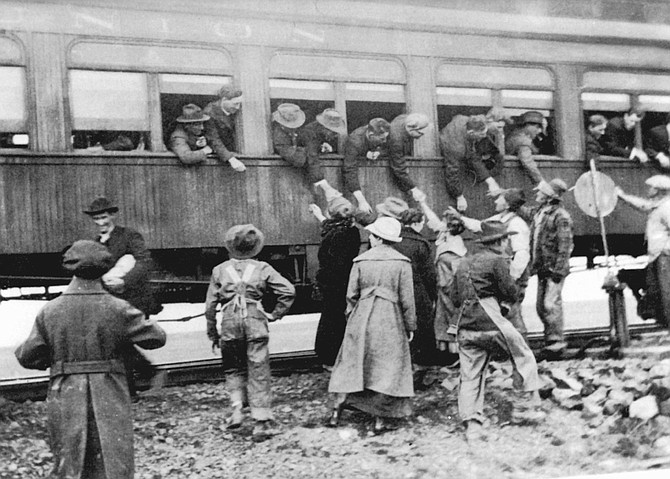 10 YEARS AGO November 15, 2006
• An early morning windstorm Monday knocked out power to several Idaho County communities and resulted in sporadic property damage and tree knockdown. No injuries were reported.
20 YEARS AGO November 20, 1996
• Without coming to blows but nearly leading to arrest, the meeting of the Kamiah School District Board of Trustees Monday night was an evening of frustration over issues involving Indian rights and people speaking out of turn.
30 YEARS AGO November 19, 1986
• When Gloria Flora reports for work at Fenn Ranger Station on the Selway River Dec. 15, she will become the first female District Ranger ever on the Nez Perce National Forest.
40 YEARS AGO November 17, 1976
• The historic old B and B Bargain store on Main Street has been condemned by the city building inspector, Dennis Albers told the city council Monday night.
50 YEARS AGO November 12, 1966
• E. L. Mathes, state highway engineer has announced Goodfellow Brothers, Inc., Wenatchee, Wash., have completed their contract on the north side of White Bird hill.
60 YEARS AGO November 15, 1956
• Improvement of the Elk City-Grangeville road continues to be a much-discussed topic in Grangeville which has extended to congressmen, State Highway Department, Forest Service, Bureau of Public Roads and county commissioners.

70 YEARS AGO November 21, 1946
• Although four precincts failed to make complete returns on the election, including the tally sheets, county commissioners met last Friday, last day to make final canvass of the votes and made their official count of the votes cast at the Nov. 5th general election.
80 YEARS AGO November 12, 1936
• The hunt for Jimmie Cash, 20, son of Mr. and Mrs. John Cash, who has been missing from his home since last Friday morning, was switched to the Middle Fork region of the Clearwater above Kooskia this morning.
90 YEARS AGO November 18, 1926
• One lad killed and three sustain injuries when car is crowded off highway south of White Bird Sunday evening.
100 YEARS AGO November 16, 1916
• J. C. Rooney was brought up from Stites by the officers last Saturday and signed in the county jail on a charge of murder of his one-day-old daughter at Stites several weeks ago.