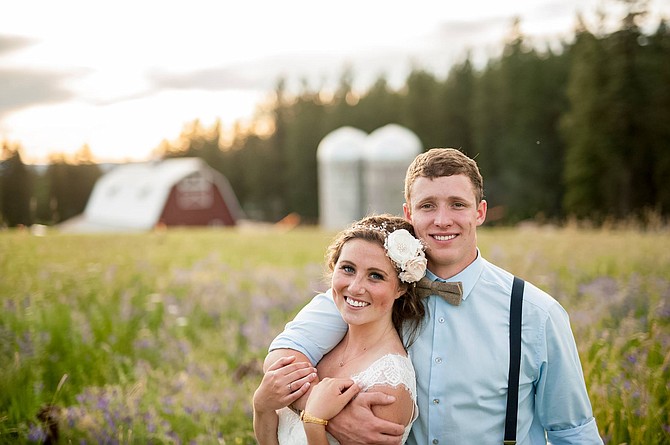 COEUR D'ALENE — Madeline Schwartz and Tyler Gilmore of Grangeville celebrated their marriage at Settlers Creek, in Coeur D'Alene, on June 12, 2016.
She is the daughter of Danny and Dixie Schwartz and he is the son of Paul and Tracy Gilmore. Both are graduates of Grangeville High School.
The wedding was a Bohemian theme and the bride walked down the Persian rug aisle barefoot.The ceremony took place creekside under the pines and aspens. The matron of honor was Madeline's sister, Bailey Pletcher, and the bridesmaids were Anne Eimers, Halee Hill, Mariah Denton and Brooke Pateson. Brinley Pletcher, niece of the bride, was flower girl and Madeline's nephews, Kaden Schwartz and Syler Pletcher, were ring bearers.
Tyler's brothers, Robbie and Bryan Gilmore, were best man and groomsman as well as friends Booker Sherwood, Ben Marek and Justin Robson. James Rockwell and Sam Solberg were ushers. Cooper Fales sang "All Of Me." Madeline's brother, Dan Schwartz, officiated the ceremony. A beautiful outdoor reception followed with cocktail hour, lemonade bar and dinner. The cake was made by Mariah Denton who recently graduated from Le Cordon Bleu.
The couple currently resides in Oklahoma City where Tyler works as a welder and Madeline is continuing her education.