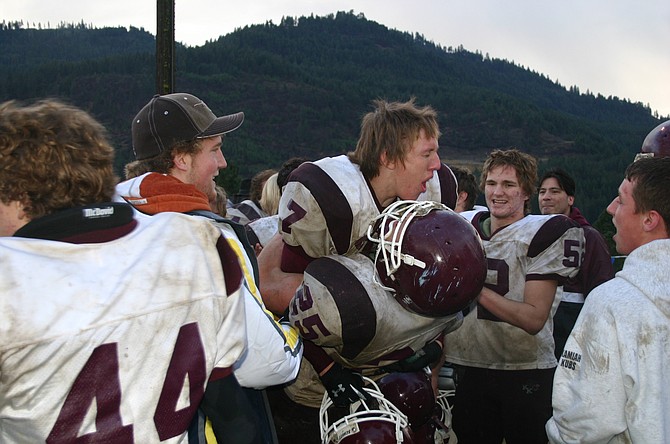 10 YEARS AGO November 22, 2006
• Patrons in JSD 241 and the Riggins area voted overwhelmingly in favor Tuesday, Nov. 21, to divide the school district.
20 YEARS AGO November 27, 1996
• An early morning rock and mud slide Tuesday has closed U.S. 95 south of White Bird, according to the Idaho Transportation Department.
30 YEARS AGO November 26, 1986
• Idapine Mills of Grangeville will soon have two new products on the local market which will also mean new jobs for local residents.
40 YEARS AGO November 24, 1976
• Meeting with newly elected sheriff Bud Walkup, Grangeville mayor Ralph Bos, Chief of Police Ted Carpenter and other city and county officials, Idaho County Commissioners revealed plans Monday for a new courthouse addition wholly funded by Law Enforcement Assistance Administration.
50 YEARS AGO November 24, 1966
• Identical dreams of two men led to the discovery of the body of a hunter lost for 27 days in the Goddard Creek area.
60 YEARS AGO November 22, 1956
• Sheriff Bud Taylor said the county's four prisoners will be fed whopping portions of a fine holiday dinner Thanksgiving Day.

70 YEARS AGO November 28, 1946
• The coal situation in Grangeville is no different than in most places over the country - there is practically none on hand with the three dealers.
80 YEARS AGO November 26, 1936
• The first case this year in the northern Rocky Mountain forest region involving forced entry into a forest cabin resulted in fines of $15 and $3 costs for each of two hunters from Moscow.
90 YEARS AGO November 25, 1926
• Miss Fern Spencer, who won the Montgomery Ward award, a trip to Chicago for club work in Idaho, and her companion Miss Estaline Geary left Tuesday morning.
100 YEARS AGO November 23, 1916
• The preliminary hearing of Jack Rooney of Stites was concluded when he was ordered discharged. The preliminary hearing of Mrs. Jack Rooney of Stites on a charge of murdering her newborn child was concluded and the accused was bound over for trial at the next term of the district court.
---
Have a photo you would like to see published in this spot? E-mail your historic photo with details to:
Freepressnews@idahocountyfreepress.com
Do you have a story from the past you would like to share with readers? Do you remember people and places in Idaho County that are worthy of notation? Laurie Chapman is interested in doing a Q&A with area residents for the Prairie Pulse blog. Email lchapman@idahocountyfreepress.com for more information.