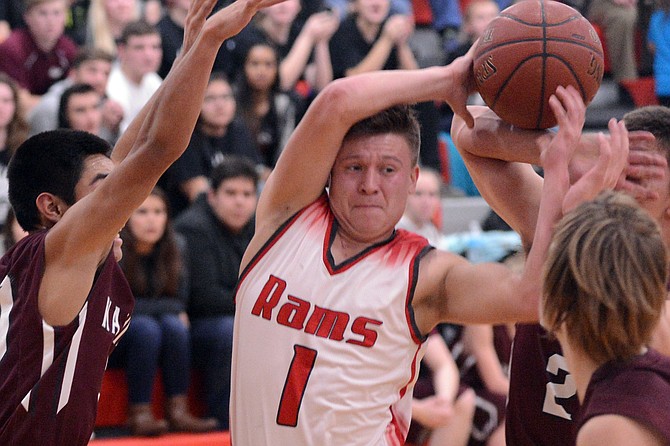 Photo by Andrew Ottoson
Clearwater Valley's Trey Pfefferkorn scored 11 points during the boys basketball season opener Tuesday night, Nov. 29, during the Rams' 69-68 Upriver Rampage overtime victory against Kamiah.
Girls basketball results
Kamiah 59, CV 47
Prairie 61, Lewiston JV 30
Highland 49, Summit 24
Boys basketball results
CV 69, Kamiah 68 (OT)
Salmon River 65, Highland 40
(Check back later for results. To report a score, text 208-507-0675, Facebook us, or e-mail us. Complete score sheets received by 10 p.m. will be written up tonight.)
WHERE WE'LL BE
KOOSKIA — The annual Upriver Rampage showdown between Clearwater Valley and Kamiah is tonight, with both boys teams player their first games of the season and the girls teams squaring off for the first time this season.
AROUND THE LEAGUES
At Highland, the Patriot girls will play their first game of the season.
MORE TO SEE
At Highland, the Salmon River boys are playing their first game of the season.
In Cottonwood, the Prairie girls are hosting the Lewiston JV.
BOYS: Clearwater Valley 69, Kamiah 68 (OT)
Nov. 29 at Kooskia
Kubs 13 20 12 13 10 - 68
Rams 10 17 14 17 11 - 69
Kamiah scoring
Luke Snyder 32, Tyrel Henry 17, Kaleb Oatman 11, Ben Dunning 4, Chris Olive 2, Christian Robbins 2.
Clearwater Valley scoring
Josh Kolb 23, Mitch Morrow 18, Kamm Mangun 15, Trey Pfefferkorn 11, Cole Olsen 2.
RESULTS
Clearwater Valley boys hold off Kamiah in overtime
KOOSKIA — Regulation allowed not quite enough time to decide the first boys basketball game of the season, which ultimately went to Clearwater Valley, 69-68, over Kamiah.
The rivalry game -- already a heated contest -- came to a boil during the fourth quarter, with Kaleb Oatman fouling out on a technical after officials called him for his fourth. On another night, Oatman's defensive play might have gone down as an unwhistled shot block, but it came immediately after Oatman and CV standout Trey Pfefferkorn tangled and stumbled out of bounds, into a spectator area near the main entryway. The foul and the technical foul put CV senior Josh Kolb on the line for four free throws, with the Rams trailing 49-46, with 5:14 left in the fourth.
Kolb missed the first and sank three in a row to tie it, and the teams matched each other shot-for-shot the rest of the way.
During the last minute of overtime, KHS point guard Tyrel Henry sank a three-pointer that lifted the Kubs within one, 67-66, and gave his fifth foul to stop the clock with 10 seconds left. CV missed both free throws, but Kolb rebounded the critical miss and was hacked with six seconds remaining. Kolb hit both free throws to widen the margin to three, and the foul shots proved vital when Kubs wing Luke Snyder's last-ditch attempt at a three fell short -- and directly into the hands of junior forward Ben Dunning, who scored the tip-drill layup as time expired.
KHS coach Abe Broncheau pointed to the foul-outs of Oatman and Henry as pivotal moments in the contest. CV coach Aaron Skinner pointed to shots like Mitch Morrow's three-pointer on the first possession of the fourth quarter and the Rams' surge in overtime.
"Heading into the fourth quarter, I told these guys it was do-or-die, their last chance to beat Kamiah at home as seniors," Skinner said. "They take a lot of pride in beating Kamiah. It's not something they've done a lot in other sports. This is a big moment for them. I wish it wouldn't have came in the first game."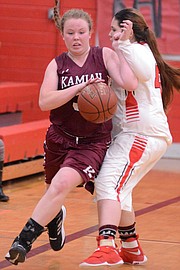 GIRLS: Kamiah 59, Clearwater Valley 47
Nov. 29 at Kooskia
Kubs 4 14 20 21 - 59
Rams 15 12 11 9 - 47
Kamiah scoring
Lacey Kludt 13, Kati Wilkins 12, Chynna Wilcox 11, Ashley Flerchinger 7, Chelsea Robinson 6, Sandy Carter 5, Lona Campos 3.
Clearwater Valley scoring
Torrie Pfefferkorn 18, Averie Proctor 14, Taylor Pfefferkorn 6, Alicia Reuben 4, Melanie Gianopulos 3, Paige Lenhart 2.
KHS girls surge to victory in the second half
KOOSKIA — The CV girls took a 27-18 lead to halftime, but Kamiah surged to a 59-47 win during the second half of the Upriver Rampage.
Three Kamiah girls cracked double-digits, with Lacey Kludt (13), Kati Wilkins (12) and Chynna Wilcox (11) finishing frequently in the paint during a 20-0 run that flipped the lead from 31-18 Rams to 38-31 Kubs during a span of six minutes during the third quarter.
Clearwater Valley rallied back to tie it, 38-38, heading into the fourth, with Averie Proctor and Taylor Pfefferkorn each canning a couple of free throws during the last minute of the third. CV led, 40-38, on a pair of foul shots Torrie Pfefferkorn made, but KHS pulled ahead to stay when Sandy Carter hooped a layup with about seven minutes to go in the game.
CV coach Rob McHone pointed to early foul trouble that limited both Fallon Wilkins and Alicia Reuben early in the game — and which culminated in several foul-outs during the second half. Kludt pointed to a halftime adjustment which allowed Kamiah to ramp up the defensive intensity and the pace, with sparkplug Lona Campos contributing significantly to the reversal before she picked up three fouls during a one-minute stretch of the third quarter.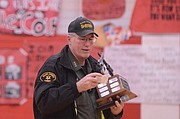 Rampage nets $6K for food banks
KOOSKIA — Idaho County Sheriff Doug Giddings awarded the traveling Upriver Rampage trophy to the Clearwater Valley side during halftime of the annual rivalry showdown, which also benefits local food banks. During halftime of the boys game, Giddings announced the event raised $5,975 for the food banks.
Rampage photos online now
Photos of the Upriver Rampage are online now at buyfreepressphotos.smugmug.com. Browse to sports then basketball then the gallery, or here's the direct link.
BOYS: Salmon River 65, Highland 40
Nov. 29 at Craigmont
Savages 13 20 12 20 - 65
Huskies 8 5 14 13 - 40
Salmon River scoring
Clayton Shepherd 25, Stephen Hackler 12, Canyon Harper 10, Devan Branstetter 6, Tucker Boyd 5, Ethan Shepherd 3, Peyton Baugh 2, Reece Jones 2.
Savages dominate season opener
CRAIGMONT — The Salmon River boys, adapting to basketball having won a football title and competed in a football all-star game, leaned on Clayton Shepherd on opening night. Powering the Savages to a 65-40 road win Tuesday night at Highland, Shepherd delivered 25 points including a couple of threes and Canyon Harper booked a 10-11 points-rebounds double-double.
Stephen Hackler tacked on 12 points during the contest and SRHS outscored the Huskies 33-13 before halftime.
GIRLS: Highland 49, Summit 24
Nov. 29 at Craigmont
Patriots 4 9 6 5 - 24
Huskies 10 13 10 16 - 49
Summit scoring
Taylor Lustig 12, Lexi Currier 6, Ally Sonnen 3, Lauren Stubbers 3.
Highland tops Summit
CRAIGMONT — Highland took a 10-4 lead to the second quarter and never allowed Summit a double-digit quarter on the way to a 49-24 win over the Patriots Tuesday night.
Taylor Lustig scored 12 as Summit's high scorer, while Highland turned mainly to Morgan Connerly (17) and Sierra Hovey (14).
GIRLS: Prairie 61, Lewiston JV 30
Nov. 29 at Cottonwood
Bengals 11 6 10 3 - 30
Pirates 20 16 20 5 - 61
Prairie scoring
Angela Wemhoff 16, Kylie Tidwell 13, Sydney Bruner 11, India Peery 9, Leah Higgins 5, Josie Peery 4, Chaye Uptmor 3.
Pirates blast Lewiston's bomb squad
COTTONWOOD — Prairie rode Sydney Bruner's double-double (11 points, 10 rebounds), Angela Wemhoff's 16 points and Kylie Tidwell's 13 points to a 61-30 win over the Lewiston junior varsity Tuesday night.
Prairie nearly doubled Lewiston's total during a 20-11 first quarter and kept a similar pace through the third. A quick clock limited scoring in the fourth.
NEXT >>
(Check back later for results. To report a score, text 208-507-0675, Facebook us, or e-mail us. Complete score sheets received by 10 p.m. will be written up tonight.)