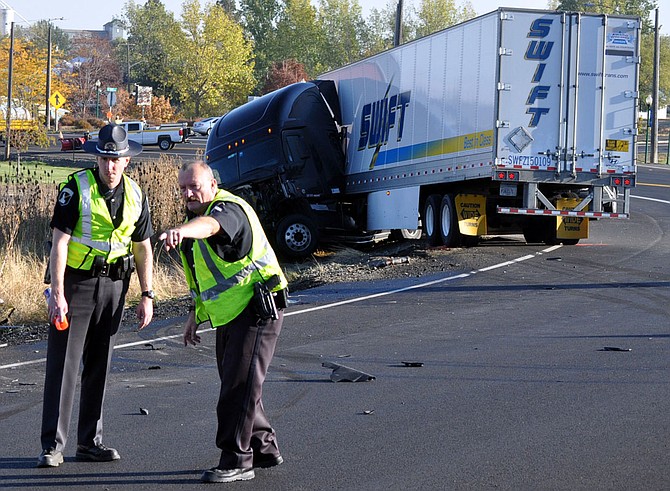 Photo by David Rauzi
Idaho State Police troopers investigate scene evidence at last Friday's Sept. 30 fatality crash on U.S. Highway 95 at Grangeville.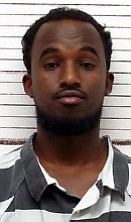 GRANGEVILLE — Excessive speed and loss of control are alleged factors in last Friday's fatal collision accident at Grangeville, which resulted in a felony charge of vehicular manslaughter against the driver involved.
Marea L. Burkenbine, 57, of Grangeville died at the scene from injuries suffered in the Sept. 30 accident.
Mohamed M. Seid, 28, of Waite Park, Minn., was arraigned Sept. 30 and set for an Oct. 14 preliminary hearing. Bail was set at $50,000, and as of press time he was in custody at the Idaho County Jail.
The incident was reported at 4:54 a.m. on U.S. Highway 95 just south of the Grangeville Main Street/State Highway 13 intersection and investigated by Idaho State Police (ISP). According to Sgt. Rich Anderson, Seid was driving a 2015 Freightliner tractor-trailer combo northbound, en route to Lewiston, and entered a 35 mph left-hand curve at speeds too fast for the critical speed of the curve. The tractor-trailer then slid across the double no-passing lines where it struck nearly head-on a southbound 2005 Chevrolet Trailblazer driven by Burkenbine.
Both vehicles came to rest in the west side ditch. U.S. 95 was blocked for approximately 8.5 hours.
Seid and a passenger, Abdifatah M. Farah, of Salt Lake City, received minor injuries and were treated and released at Syringa Hospital in Grangeville. Occupants of both vehicles were wearing seat belts.
•-
"I lost control, but I will talk to my attorney," stated Seid in last Friday afternoon's arraignment in magistrate court, speaking through an interpreter. Seid was interpreted saying he was "a Somali citizen, not a U.S. citizen yet." At two different points in the hearing, Seid, in his own words, elaborated on points listed in the charging document; however, speaking by phone his attorney, Chuck Stroschein of Lewiston, retained by Swift Transportation, objected to these statements being translated as Seid may self-incriminate.
Idaho County Prosecutor Kirk MacGregor, who was not present, had recommended bail set at $100,000, which Stroschein took issue with regarding the amount as excessive and arbitrary.
"If the prosecutor thought the amount was so important, he should have been here in court to make the demand," Stroschein concluded.
Magistrate Judge Michelle Evans, speaking by phone, agreed with Stroschein and cut the bail by half, and stated bond would also require Seid to turn over his passport until the case is resolved.
•-
ISP was assisted on scene by Grangeville Police Department, Idaho County Sheriff's Office, Syringa Ambulance, Grangeville Volunteer Fire Department Extrication and Idaho Transportation Department. Vehicle removal was handled by Forest Wrecking and Dale's Rescue Towing.