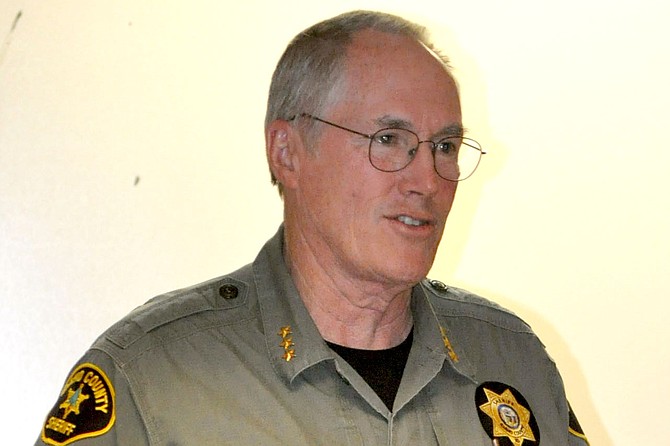 GRANGEVILLE — Contention within the Idaho County Sheriff's race spilled into city government business Monday night.
Sheriff Doug Giddings addressed the Grangeville City Council at its Oct. 3 meeting concerning an endorsement ad that ran last week for his opponent, Carlos Martinez, featuring five city police officers – including Chief Morgan Drew.
None of those pictured were in uniform, nor were their positions listed or their association with city law enforcement. The ad ran in the Sept. 28 Free Press, page 8A; and both the Martinez campaign and its supporters posted it on social media.
"My main concern is politics has moved into the city police and they've taken a political stand as a unit," he said, "they have decided to take up the politics of this because we want this other person. Who they want is fine … but how they go about it is unacceptable, in my opinion."
Giddings stated his department's policy is to remain neutral concerning politics, and that involvement, such as a public endorsement as this, can be a matter for discipline. He understands there can be difference of opinion with individuals and between agencies, but this type of political involvement can generate divisiveness that can be harmful to working relationships, both inside and outside the department.
The divisiveness of this election, which, he said, is being generated by his opponent, is causing his staff to take sides and causing problems he's not seen in his 20 years living in the county.
"Where do you stand on this? Because this is going to cause long-lasting disagreement, feud. If I win the election what do I expect from the city? … What can the county expect?" he said.
Mayor Bruce Walker responded his opinion for the last 30 years has been the city not be involved in any political race that involves the council, such as sheriff's race.
"I never felt it was a good idea because regardless of the outcome we still have to work with those people," he said.
Walker said the city has no policy, such as the sheriff's office, nor was he or the city attorney or anyone on the council consulted regarding the endorsement ad. That being said, Walker stated this was those individuals' constitutional right to make this endorsement. Walker said he reviewed the advertisement, and though it is obvious who these individuals are and their police involvement, the ad had no city logos or reference to the police department, so he didn't feel the city could do anything about that.
"I probably wouldn't have done it but on the other hand it's their right to do so," Walker said.