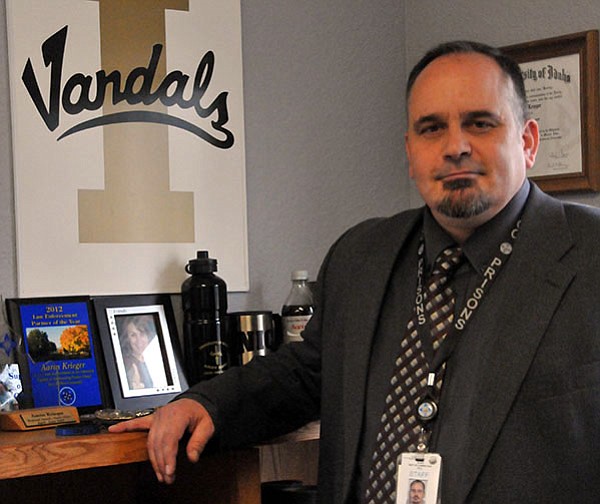 Photo by Laurie Chapman
Aaron Krieger is photographed in his office following a tour of the North Idaho Correctional Institute, Cottonwood. Krieger was promoted to warden of NICI in June of this year.
COTTONWOOD — Talking to the North Idaho Correctional Institute (NICI) warden, his philosophy towards rehabilitation is clear. Placing an emphasis on "corrections" and improving behaviors makes Aaron Krieger a clear fit for the Idaho Department of Corrections position in Cottonwood.
And while Krieger may not have expected this path, he certainly embraces his career passionately.
"I feel like we're making a difference in people's lives," Krieger said. "That's what gives me the incentive to come into work every morning."
Krieger was hired in June after Lynn Guyer retired as warden.
Krieger said if he had been asked, when he was a college grad, what his intended career would be he would not have answered correctional officer. But plans change in life and in 1997 he began working with the Idaho Department of Corrections as a correctional officer at Orofino (IDI-O). In 2000, he was promoted to psychosocial rehabilitation specialist at NICI. 
He then spent the next 16 years moving back and forth between NICI and IDI-O moving up the ranks. After leaving NICI, he was promoted to lieutenant and then program manager of the Therapeutic Community and Education department. He then served as deputy warden at NICI from 2009 to 2012. Prior to his promotion this summer, Krieger was deputy warden of security and then operations at IDI-O.
"I've loved every job I've had with the department of corrections," he said. "I learned more my first year in the department of correction about people than I did in all four years of college."
He describes his transition upward, not as a personal achievement goal but rather a path to building a more successful program. Each move he assessed whether he should leave a personally satisfying position against the potential for program improvement.
Bill Farmer, education program manager, has worked with every warden since NICI opened. He referred to Krieger as the poster child for how you should work upwards.
"Aaron has been in the department of corrections in every capacity. He's got a real understanding of the Idaho Department of Corrections," Farmer said. "He comes in with that kind of testing. He's coming in at a time of change and with eyes that understand the department of corrections."
Krieger graduated from Deary High School and studied psychology at University of Idaho, graduating with a bachelor of science degree. He also served in the Idaho Army National Guard for nine years.
He said his education and military training "absolutely" prepared him for his role as head of the correctional facility. He calls it his foundation and without it he would not be as equipped for this career.
NICI was opened in 1973, Krieger said, and serves as a retained jurisdiction facility. Once a judge has imposed a sentence, the inmate is assessed during the course of 180 days. The judge can alter or suspend the sentence at the end of the time period.
NICI inmates are assessed using a variety of programs aimed at improving behaviors. Everything from General Education Development (GED) courses to substance-abuse training aim to prepare inmates for release.
Krieger states inmates at his facility want to get home to their communities. It is the staff's goal to ensure each individual has the necessary tools to make changes in their behaviors, improving their chance at success when they return home.
"We believe in communication, that's our strongest weapon," Krieger said.