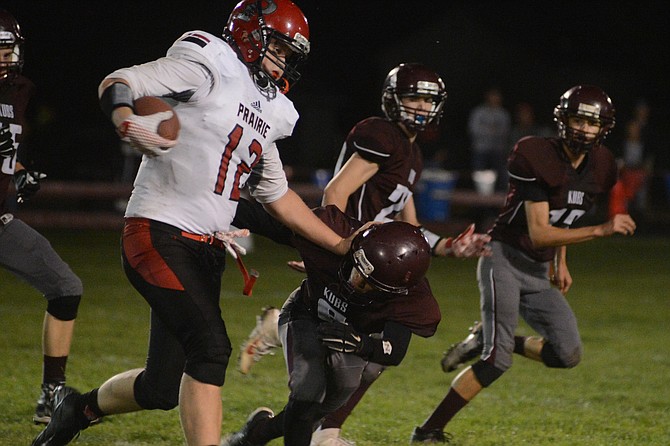 Photo by Andrew Ottoson
Prairie quarterback Spencer Schumacher smacked down a would-be tackler with a big stiffarm last Friday night at Kamiah.
COTTONWOOD — The combination of homecoming this Friday night, Oct. 7, and a thunderous win last Friday night, Sept. 30 at Kamiah, has the Pirates' flags flying high.
Prairie (4-1, 3-0 Whitepine League) will host undefeated Troy (5-0, 3-0 WPL) at 7 p.m. with the winner set to move into first place and the loser to face greater pressure from the one-loss teams, Wallace and Lapwai.
Prairie's 66-20 win began with a puncturing of Kamiah's defense with a long pass to Hunter Chaffee and a 20-yard option run by Lucas Wemhoff, good for an 8-0 lead less than a minute in the contest.
PHS scored the next five touchdowns and led 36-0 before Kaleb Oatman broke a run 64 yards for a Kamiah touchdown with five minutes left in the second quarter.
Spencer Schumacher (eight yards), Chaffee (42) and Brandon Anderson (57) all tallied touchdown runs during that opening phase, which also featured a passing touchdown from Schumacher to Anderson.
Schumacher answered Oatman's score with a long run (43 yards) and Oatman struck again on a trick play. KHS tailback Liam Carson threw to Oatman for a 37-yard score, and Carson later caught a touchdown pass from Oatman.
Wemhoff scored a second touchdown during the second half. Anderson tallied two more and finished with 97 rushing yards, 47 receiving yards and a total of four touchdowns.
As a team, PHS totaled 510 yards from scrimmage on 45 plays and Kamiah notched 341 on 52. In addition to his touchdown catch, Oatman threw for 164 yards and rushed for 89 and had a hand in all three of the Kamiah scores.
Wemhoff scored two conversions in addition to his two touchdowns, and PHS kicked two extra points.
Up next, while Prairie hosts homecoming, Kamiah will visit Lapwai at 7 p.m. Friday night.
Lapwai 52, CV 0
LAPWAI — The Wildcats outscored the Rams 46-0 during the first half and 52-0, which lifted Lapwai into fourth place in the Whitepine League and dropped the Rams into a tie with Genesee for fifth.
Up next, Clearwater Valley (2-3, 1-2 WPL) will host Pomeroy at 7 p.m. Friday, Oct. 7.
S-R 54, Garden Valley 12
GARDEN VALLEY — Salmon River scored the first five touchdowns of the Savages' league opener last Friday night, Sept. 30, with Canyon Harper taking in all five.
Harper tallied a 20-yard run, a 40-yard pass from Tucker Boyd, a 15-yard run, a 21-yard run and a 20-yard run.
Later, Gabe Gonzalez returned a kick 50 yards for a score and Boyd caught a 20-yard pass from Devan Branstetter.
Up next, Salmon River (5-1, 1-0 Long Pin Conference) will visit Tri-Valley at 7 p.m. MT Friday night, Oct. 7.