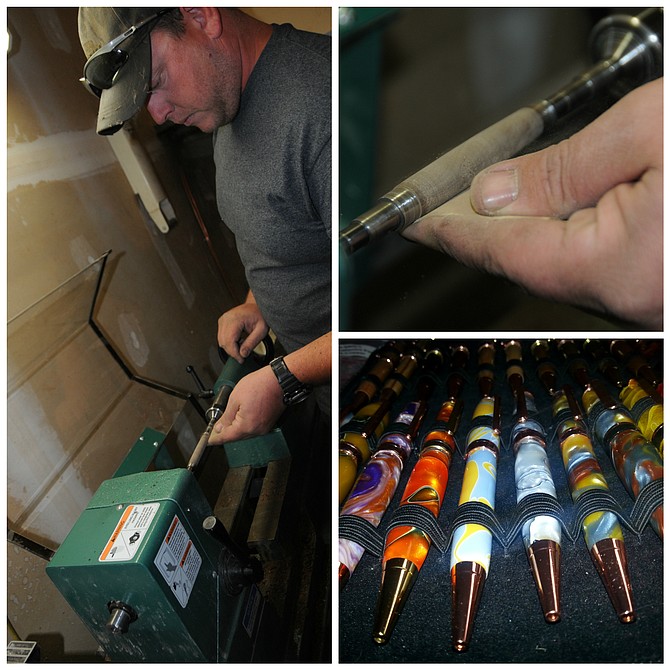 Photo by Lorie Palmer
(Top and right) Mike Tackett uses the lathe to turn a tube of wood into a pen barrel. (Bottom) Some of the finished products in acrylic are pictured here.
A life skill learned in high school shop class has turned into a hobby for a local man.
Mike Tackett, who graduated from Grangeville High School in 2004, learned to use a lathe during high school. In later years, when he decided to purchase his own machine, he began teaching himself to use it in various ways.
"I started looking online and I just thought it would be fun to make pens," he said.
That thought has turned into the creation of hundreds of different pens varying in size and type.
Tackett drills a hole for the pen tube into small blocks of wood – cherry, oak, walnut, zebra and mahogany, to name a few. He also uses blocks of acrylic which come in more than 1,000 colors.
The wooden pens get a coating of oil/wax to help with their shine and sealing, while the acrylic pens are simply sanded and wiped down. Tackett uses a variety of pen mechanics colors – copper, bronze, silver and gold.
The pen press hanging on his garage wall is meant especially for inserting the pen pieces in place.
"The neat thing is, no two pens are alike," he said, showing his collection of various pen colors and sizes.
Tackett plans to sell his wares at the Grangeville Christmas craft show in December, as well as adding a few more items before that time. His pens retail for $20 apiece. Photos of his creations are posted on his personal Facebook page.
Tackett works full time for the City of Grangeville at the wastewater treatment plant and previously spent six years working full time at the family business, Tackett's Saw Shop.
"Mostly I am just having fun doing this," he said. "It's a good hobby."