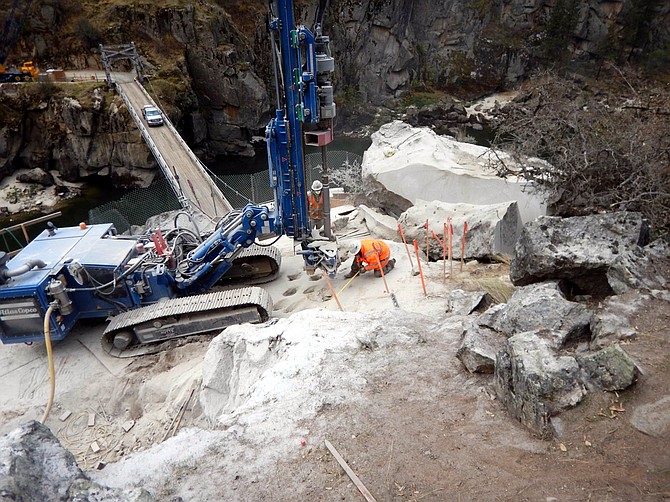 RIGGINS — After years of arguing with the Federal Highway Administration over the Salmon River Road, Idaho County has accepted the Salmon River Road was "completed…per the project agreement" in September 2013. The county had been seeking changes that could make the road cheaper to maintain; in August, the Western Federal Lands Highway Division sent a letter asking Idaho County Commission Chairman Jim Chmelik to sign off "your approval and acceptance of the project" and Chmelik did so on Sept. 13.
The letter ends the dispute between the county and the feds over details such as the curb along the uphill side of the road, which the county had contended would make it more expensive to remove rock.
Beyond where the blacktop presently ends, work continues on the separate but related Manning Crevice Bridge replacement, where workers were still in the process of removing part of a large boulder that would otherwise interfere with the construction of the new anchor point to be located on the north side of the river, a bit to the east of the existing bridge.
The new bridge will be of a single-tower suspension design to be completed by Record Steel & Construction Inc. (RSCI). The $9.7 million contract was awarded in January 2016 with completion anticipated in November 2017.
Bridge work includes night closures this week, with delays up to 30 minutes possible, 8 a.m. to 4 p.m. and 5 to 10 p.m. Info online at https://flh.fhwa.dot.gov/projects/id/manning-crevice.