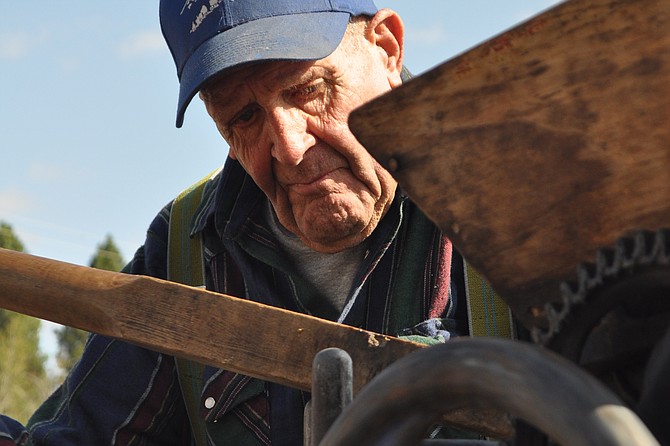 Photo by David Rauzi
Lewis Ulmer of Kooskia operates his century-old apple press, using a wooden lever to screw down the plate on a bucket of shredded apples to squeeze out the juice.
KOOSKIA — Even the yellow jackets were friendly.
Such was the golden fall Clearwater Valley morning on Saturday, Oct. 1, as several dozen people gathered at the Tahoe QRU building on Leitch Creek Road to combine apples and elbow grease into smooth, sweet cider.
"This was a great apple year," said Irene Finehout, EMT for Tahoe QRU, which has organized this fund-raiser now in its third year. Participants are encouraged to bring apples and containers, and they can use the available hand presses to grind up the fruit, the end product of which is squeezed for juice and the remaining mash made available for livestock feed or to make other products such as apple cider vinegar. Donations toward the QRU for this service were accepted
About 50 people participated that morning for the event — which raised a total $156 for Tahoe QRU — bringing a range of apples from red and golden delicious to McIntosh and gala. Loma Ulmer of Kamiah, with her husband, Jack, were running some "good cooking apples" through the press that came from a tree their parents had planted in the 1950s.
"About four gallons," Loma said they gleaned from their pressing and poured into milk jugs. The product was a medium brown with light froth, and at ambient temperature it gave a refreshing light sweet taste to start off the month of October.
Participants brought in apples from their own orchards or from those gleaned off trees along country roads. Pretty much any apples would do.
"It's a great way to use the smaller, wormy apples," Finehout said.
Presses for the event were provided by Dick Tucker, Lewis Ulmer and Dale Cooper. Of these, Ulmer's press held seniority at 100 years old; still working smooth to chew apples into ragged strips before being placed in a round slatted-sided bucket topped with two corresponding wooden disks that would be pressed into the mass. A lever was used to screw the press downward, squeezing juice between the slats and out onto the wooden platform into a catch trough below.
"They aren't a problem," one man said of the few yellow jackets attending the event. There's enough for all, and they were there long enough just to fill up their gullets before flying off.