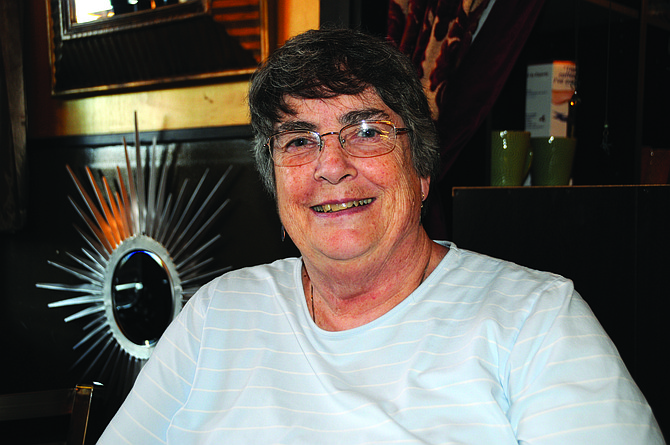 Photo by Lorie Palmer
Leslie McDaniel has taken the helm at Sts. Peter and Paul as its new principal; she also teaches in the junior high.
GRANGEVILLE — There's a new face at Sts. Peter and Paul School (SPPS), but she's definitely not a new face in Catholic education.
SPPS welcomed Leslie McDaniel, 72, as its new principal this year. She is also teaching seventh and eighth grade social studies and science.
"I am enjoying it here. Everyone has been so welcoming. I think I've had more dinner invites since I've been here than I've had in my whole career," she smiled.
McDaniel grew up in Tacoma, Wash., and attended Marylhurst College in Portland, Ore., where she obtained her secondary education degree in health and physical education. After two years, she decided to acquire her elementary credentials at Portland State.
"I decided I would be much happier in my own classroom," she said.
For her entire career she has taught in Catholic schools – mainly fifth grade, but also including Title I and P.E. She later attended Lewis and Clark in Portland and received her educational administration certification to become a principal. She then took a position at Christ the King in Milwaukie, Ore.
After 18 years of marriage, she and her husband, Bob, were blessed with a son, she said. Bobby, Jr., was born and McDaniel continued to work as a full-time principal and now as a mother, too.
"He was such a wonderful boy, just a very good kid," she smiled. When he was 12, his father died. McDaniel and her son were very closes and spent time traveling. She and her husband had been avid skiers as well, and Bobby also participated.
At the age of 50 she had gone back to school, Seattle University this time, and got her doctorate.
McDaniel was working for an Oregon State University forest outreach program when she learned that her son, age 22, had died in his sleep due to an undiagnosed heart condition. McDaniel said she leaned on her faith more than ever at this time.
"I can't say I haven't had my moments, but I can tell you I felt the Mother Mary's arm around my shoulders," she recalled. "And I thought, 'If she could go through all she did with her Son, then surely I, too, can get through this.'"
McDaniel continued to work and later ended up in La Grande, Ore., at a small Catholic school. That facility closed at the end of the last school year and she began to look for another position when she discovered SPPS.
"I really came on faith," she smiled. A Skype interview and then a visit where Steve and Lynnelle Wassmuth were hosts to her and showed her Grangeville sealed the deal.
McDaniel is getting to know the parish and school, and, most importantly, the students.
"I started checking them into lunch each day – a duty I took over from their teachers," she explained. I need to do that and put names to faces."
She also greets the students when they enter school in the mornings, and "I'm getting those names right – most of the time!" she laughed.
"I certainly do not believe a principal should be a scary person," she said. "I want them to know me, and if there is a problem I want them to be able to talk to me and also be accountable and responsible for their actions."
In her spare time she enjoys reading and watching some television, as well as traveling.
"I look forward to getting to know Grangeville even more," she said.