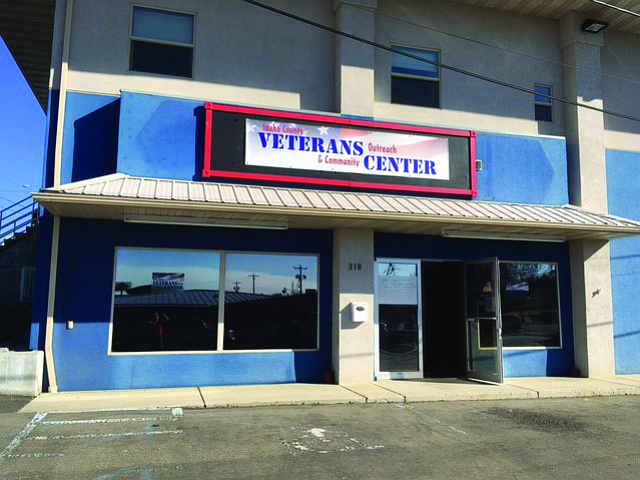 GRANGEVILLE — Thanks to the vision of many local volunteers, veterans now have a place to congregate in Grangeville.
The Veterans Outreach and Community Center, located at 318 East Main Street (former NAPA Auto Parts, across from Pine Tree Community Credit Union) is operated by the non-profit group Idaho County Veterans Association Inc.
"This has the support of American Legion Post 37 and Auxiliary, VFW Post 3520 and the 40&8/La Femmes Chapter 906," explained Jinny Cash, commander for the American Legion, Department of Idaho/District 2. Cash spent 30 years in the service and is retired from the US Army. She will manage the center.
Cash said the work in the building – which also formerly housed the Free Press and prior to that the VFW – was completed by volunteers, namely retired U.S. Marine Corps GySgt Lucky Gallego and former Air Force SSgt Bob Johnson.
The center area includes 1,500 square feet of assembly area, a private office, a future kitchen space, a large storage area that can also be used as a meeting space and seating for 80 people in a banquet setting.
"We want to have live music and dancing, meetings, classes and Bingo, and a space for veteran counseling," Cash explained. As district commander, she said she has traveled the region and Grangeville was the only area not to have a specific hall for its veterans to gather.
The center will serve as a place to have holiday and other meals. It is currently open and ready for visitors to stop in, visit, have coffee, watch TV and play games.
The center is open Monday through Friday, 10 a.m. to 3 p.m., for veterans; however, Cash also encourages the public to stop in and visit and tour the facility. Free lunch for veterans is served the first Friday of each month and TLC4Vets serves dinner one Friday night per month. The grand opening is set for Saturday, Oct. 15, with live music and refreshments. Upcoming events include a Marine birthday party Nov. 5; Veterans Day lunch Nov. 11; and a WWII cantina-themed dance Nov. 12.
The center space is also available for rent to public and private groups and individuals.
A tables and chair fund-raiser is ongoing to help furnish the center; $50 purchases a chair and $200 buys a table and four chairs. Donations are tax deductible. In addition, other monetary donations as well as coffee, K-Cups and baked goods are also accepted. To reach the center call 451-0085 or visit them on Facebook at www.facebook.com/IDCOVetsCenter.
Supporters:
The Idaho County Veterans Association, Inc., includes the following: Chair: Jinny Cash, U.S. Army (retired); secretary: Jon Nida, U.S. Army (retired); treasurer: Katrina Bentley, U.S. Army (retired); advisors: Camden Schacher, Idaho County Veterans Service Office; Mike Peterson, U.S. Army (retired), Grangeville City Council; Don Owen, U.S. Air Force veterans, commander, American Legion Post 37; Tara Nida, president, American Legion Auxiliary Unit 37; Chad Miller, U.S. Army (retired), commander, VFW Post 3520; Paul Turpin, U.S. Army (retired), TLC4Vets, Trinity Lutheran Church; Pastor Mike Musegades, U.S. Navy (retired), TLC4Vets, Trinity Lutheran Church; Lucky Gallego, U.S. Marine Corps (retired), public affairs, Idaho American Legion; Jared Everson, U.S. Army Veteran, Grangeville Elks; FNP Beth Monsebroten, Syringa VA Clinic; Laurie Graham, Syringa VA Clinic; partners: American Legion, Department of Idaho District 2; American Legion Post 37 and Auxiliary; Veterans of Foreign Wars Post 3530; 40&8 / La Femmes Chapter 906.