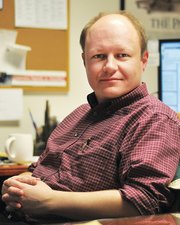 Oktoberfest: Did you have a good time? Great. Now let's keep that ball rolling.
Several months of organization pulled together a Grangeville celebration that, with just a few hitches, provided a nice return to a long-dormant community event. Entertainment, activities and an overall good excuse to party provided residents an engaging fall diversion.
With this success in hand, organizers should have the motivation and inspiration to begin planning next year's bigger and better Oktoberfest. There's good momentum here; Saturday's turnout shows there's room for another event on the annual roster of activities when you have a good crew of motivated individuals driving it, with support from the community and its merchants.
This is nice to see as the trend through the past several years has been a decrease in civic participation; service organizations going begging for members and community events going extinct for lack of bodies to plan and run them.
Saturday's Oktoberfest is a positive enforcement that Grangeville merchants are not only alive, well and thinking of their community, but also that residents of this community will still go all out to support an event full of music, food and laughter.