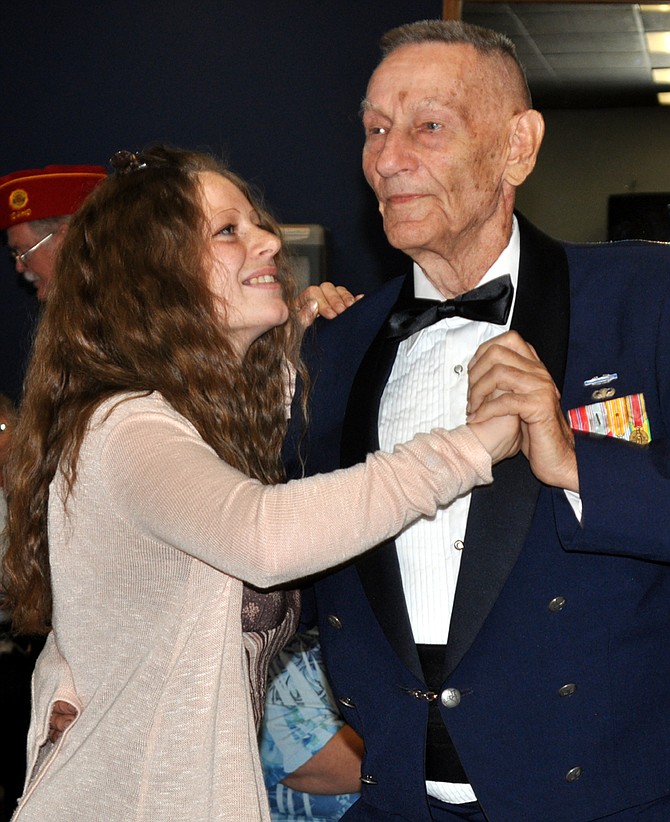 Photo by David Rauzi
The Veterans Outreach and Community Center in Grangeville held its grand opening ceremony last Saturday, Oct. 15, that featured refreshments and live music. Pictured here dancing are (L-R) Brianna Palmer of Kooskia and U.S. Air Force veteran Thomas Schwartz of White Bird.
GRANGEVILLE — One person stood clear of the scissors at Saturday's dedication ceremony for the new veterans' center in Grangeville.
"I'm commissioned now and they won't let me touch anything sharp!" joked Robert Skinner, commander for the State of Idaho American Legion.
Around 160 people attended the Oct. 15 event, celebrating the grand opening of the Veterans Outreach and Community Center at 318 East Main Street. The 1,500-square-foot facility is open Monday through Friday, 10 a.m. to 3 p.m., and offers a place to visit, drink coffee and play games, and an overall meeting space for events and veterans services/counseling. Volunteers and business/organization donations brought the facility into being, and it is managed by non-profit Idaho County Veterans Association, Inc.
Cutting the dedication ribbon, Mayor Bruce Walker said he is "honored and proud" to be part of this event for a facility long-needed for the community, appreciating the efforts of those who contributed toward it, "and I hope everyone has the opportunity to enjoy it for many years to come."
"For a long time, veterans have needed such a place in Grangeville," said Rocky Davis, junior vice commander, State of Idaho Veterans of Foreign Wars. "It's great that this has happened." He echoed the same sentiment as Chad Miller, commander of Grangeville VFW Post 3520, who said this is a great facility long-needed for local veterans, "and it will be used a lot in this town."
Emphasizing the need for such a facility, Tara Nida, president of Grangeville American Legion Post 37, noted veterans had to have such a place, "to come together, to have that camaraderie, to get the support they need and want."
Officiating Saturday's dedication was center director Jinny Cash, retired U.S. Army and commander for the American Legion, Department of Idaho/District 2.
•
Center events are upcoming. For information call 451-0085 or visit them on Facebook at www.facebook.com/IDCOVetsCenter.