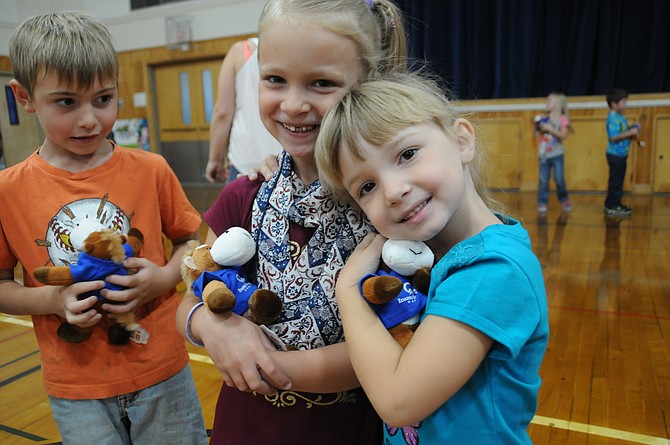 Photo by Lorie Palmer
Kindergarten cousins (L-R) Julia Klapprich and Kendal Fogleman hug their new reading buddies while a classmate looks on.
GRANGEVILLE — 'Buddies' offer incentive for young readers "The more you read the more things you know. The more that you learn the more places you'll go."
-Dr. Seuss
What's small and brown, wears a tiny blue T-shirt and makes kids want to read? It's a Reading Buddy, of course.
Grangeville Elementary Middle and Sts. Peter and Paul kindergarten and first-grade students were in a happy frenzy Monday morning, Aug. 29, when they received a Beanie-Baby sized stuffed horse from Idaho Forest Group employees.
"This reading incentive program rewards students for meeting attainable reading goals," explained GEMS Principal Dr. Susan Anderson.
Every GEMS and SPPS K/1 student "adopts" a buddy they read to each day at school. After reading 10 books, students get to name their buddy and receive an adoption certificate. In 10-book increments, the students earn different rewards from taking their buddy to music class to having lunch with their buddy and having an at-home sleepover. At the end of the year, kids keep their buddy with hopes they will continue to read to them during summer break.
As students read during the year, they record their reading time in a log to keep track of where they are with their goals.
"We love our buddies," shyly agreed cousins Julia Klapprich and Kendal Fogleman, hugging and comparing their buddies.
IFG's plant manager Shannon Fuchs, Grangeville mill, supports the program wholeheartedly.
"We want to instill a love for literacy in students as the more kiddos read, the more their fluency improves, and this helps them in all aspects of their education and life," she said.
Anderson said reading logs can include parents and siblings reading to the child, so the kids don't need to be readers to move up with the goals.
"Kindergarten students are not expected to know how to read upon entry to school," she explained. "We seek to have them all reading pre-primer books at the end of the school year. First is understanding print — that is letters represent sounds — and then that the symbols represent words. First-grade students usually start reading at pre-primer level and advance to a basic reading as the year progresses."