Photo by Andrew Ottoson
As pictured, Grangeville's Luke Stokes unloaded on Lewiston JV running backs, but he also made his mark on the scoreboard with three rushing touchdowns.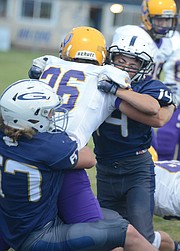 GRANGEVILLE — Despite what the final score might suggest to those who weren't at GHS last Thursday night, Sept. 1, this one wasn't close, and couldn't have been expected to be. The Bulldogs posted a 47-30 win over the Lewiston JV.
The Grangeville varsity led the Lewiston JV 33-0 at halftime, and added a long touchdown run by Noah Kaschmitter early in the third quarter plus the point-after kick for a 40-0 lead.
Grangeville's reserves yielded 30 consecutive points by the early part of the fourth quarter, so the starters returned to close out the contest.
Grangeville added a touchdown with 4:19 remaining, which effectively iced the Bulldogs' first win of the season.
Jon Chamorro (13 for 138 yards, two touchdowns) and Luke Stokes (eight for 178 yards and three touchdowns) carried the offense.
Coming – Grangeville (1-1) will host another Thursday night game this week, with Clarkston set to visit at 7 p.m. Sept. 8. Grangeville will visit McCall at 7:30 p.m. MT the following Friday, Sept. 16.
GHS is scheduled to host Parma on Sept. 23 and the Bulldogs will close out the month with another Thursday night game, Sept. 29, at Lewiston.