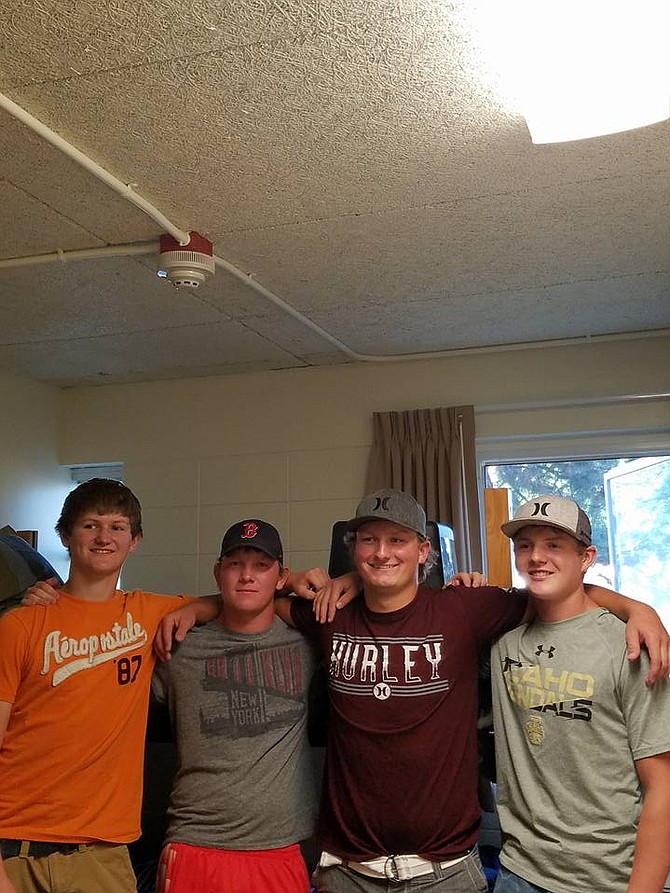 COTTONWOOD — Preparing for the transition to college from high school can be intimidating. But with the help of family and friends, and thoughtful planning, the move can be a bit easier.
Brandon Higgins of Cottonwood moved into the dorms at the University of Idaho in Moscow Aug. 18. Making the transition with him were 2016 Prairie Junior/Senior High School grads Justin Schumacher, Calvin Hinkleman and Devin Bruegeman.
Knowing his roommates reassured Higgins and left him with one less thing on his mind, he said. The days leading up to his move were filled with both excitement and nervous tension.
"Honestly, it was like college went from next year to next week," Higgins said.
2014 District Go-on rate
•Cottonwood 78 percent
•Kamiah 36 percent
•Mountain View * 46 percent
•Salmon River no data available
•Idaho 50 percent
•United States 68 percent
*Includes Grangeville High School, Clearwater Valley High School and Elk City Public School
Information found online at www.idahotrends.org.
Attending college was never a question for Higgins. He said both his parents attended college, as well as his two older siblings. One older brother currently lives in Moscow and attends U of I, Higgins said, and will be available to guide him as needed.
"I don't think there ever was a time when college wasn't in the plan," he said. "College was a step in getting a job."
Knowing he would eventually attend a four-year university meant planning to finance the cost of a secondary-school education. Higgins said he participated in 4-H from the time he was in elementary school as a way to save money for future costs.
He also said his mother advised him over the years to spend wisely and save a portion of his proceeds.
Between 2010 and 2014, statistics revealed 89.8 percent of Idaho County residents age 25 and older held a high school diploma or above. The numbers compared with 89.1 percent in the state and 86.3 percent in the United States.
The number of county residents with a bachelor degree or higher dropped significantly in the same time frame, down 73 percent to 16.8 percent. State statistics were slightly better, down only 63.7 percent to 25.4 percent, and the U.S. was down 57 percent to 29.3 percent.
For the past five years, the Idaho State Board of Education has spent time and money researching methods to increase attendance at four-year universities. In 2014, the last date statistics were available, the Cottonwood School District sent 78 percent of graduating seniors on to secondary education. The number was 28 percent better than state percentages, at 50 percent, and 10 percent better than the federal at 68 percent.
Higgins said the counselor at Prairie Junior/Senior High School worked diligently to guide and advise students on selecting a post-graduation plan and how to fund the plan. He said staff was available to help students decide on a future course of study and how to reach those goals.
"For me, it wasn't a lot of meetings because I had a plan," he said. Higgins intends to study architecture, an interest he has had since he was young.
Higgins said his father studied architecture, and Brandon and his sister have both drawn up sketches of home designs since they were young.
Kristi Bruegeman, whose son, Devin, is a friend and roommate of Higgins, said Devin is beginning his first year of college as a sophomore. Because he was able to take dual credit classes while in high school, Devin earned 21 hours of college credit before he graduated in May.
"Even from eighth grade on they start talking about what classes [students] need to be taking," she said.
Kristi said Devin knew early on he was interested in studying science at a university. His interests allowed them to plan for earning dual credits.
But no amount of planning can help a mother adjust to sending her first child to college.
"He is coming home this weekend, that always helps," she said. "It's just different, not having him walk in the door every night."
The adjustment also has been difficult for Devin's younger siblings; he has a sister starting high school and a five-year-old and one-year-old sister. Devin set up a facetime video chat to interact with his family this week. Kristi said it was important for the youngest two in the family to see and speak with him since they were not with the family to drop Devin off at U of I.
Fall classes began Monday, Aug. 22, at U of I, Lewis Clark State College in Lewiston and Boise State University.