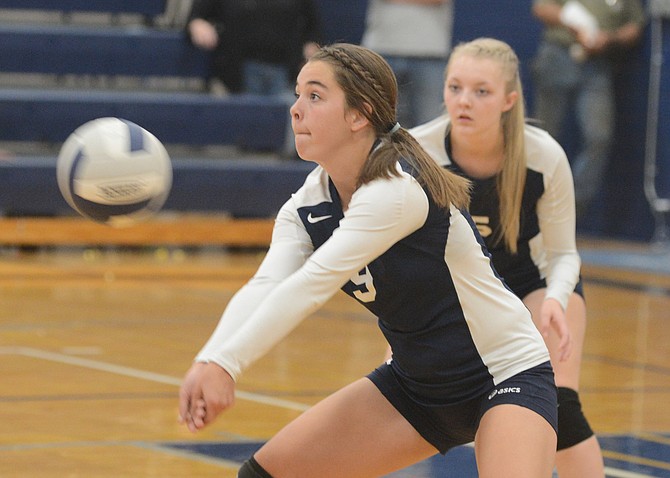 Photo by Andrew Ottoson
Grangeville played an early-season home-and-home with McCall-Donnell. GHS trounced the Vandals in straight sets last Thursday night, Sept. 1 and visited McCall Tuesday night, Sept. 6. Check for results of that match online at idahocountyfree press.com. Pictured is GHS outside hitter Kate Lutz playing a pass during the third game of the Sept. 1 match.
McCall-Donnelly had trouble countering hard hitting from Rachel Kelley and Maicee Conner, as well as the serving of Kenzie Kennedy, Paige Lindsley and Kate Lutz last Thursday night, Sept. 1. Conner, Katrina Frei and Lindsley also hit well against the Vandals during Grangeville's return trip to McCall Sept. 6.
On the road Tuesday night, Grangeville dropped the second set but preserved victory with sharp play in the third and fourth (25-15, 22-25, 25-17, 25-18).
Of that second set, GHS coach Kelcey Edwards said: "We did not pass well and McCall forced us to play more their style of offense."
After that, GHS rallied.
"I am very pleased with the way this team has bonded together so early in the season," he said. "The closeness we have has really helped to get us to play together and progress to a higher level of play this early in the season."
Conner had seven kills, Frei had six and Lindsley had six. Four Bulldogs booked double-digit nights at the serve line, with Frei (five aces on 19 serves) pacing Kenzie Kennedy (18 serves), Rachel Kelley (16 serves) and Lindsley (10 serves) as Grangeville won 56 percent of the points played.
On their home floor last week, the Bulldogs won 64 percent of the points.
Grangeville swept the sets (25-10, 25-15, 25-17) on Sept. 1 and improved to 4-0 while outscoring the Vandals nearly 2-to-1 all evening.
Trailing by a point early in the second game, GHS surged to an 8-5 lead on kills by Kelley and Conner, prompting a McCall timeout at 10-5.
That was during Lindsley's serve, and her jump-serves extended it to 12-5.
GHS closed out the second game on McCall's attack error, and led the third 11-3.
Head coach Kelcey Edwards said after the game that Grangeville's strongest areas were in "moving their feet" and in "playing like a family."
He said the squad has been doing a particularly good job of keeping each other upbeat and mentally in the games.
Kelley (11 attacks) and Conner (seven attacks) totaled five kills apiece, with Katrina Frei (two kills on 11 attacks) and Lutz (four on nine attacks) also heavily involved.
Kennedy and Lindsley each served 12; Lutz served 10.
Coming — Grangeville (4-0) is slated to host Cascade this Thursday, Sept. 8, host the annual Bulldogs JV Tournament at 9 a.m. Saturday, Sept. 10, and host Colton next Tuesday, Sept. 13.
League play is set to start Sept. 20 at GHS against Orofino.
The varsity is set to follow the JV each night, with JV matches typically starting at 6 p.m.
The C team has two matches starting at 4:30 p.m. Sept. 14 at Jenifer, and will lead into Grangeville's Sept. 15 showdown with Prairie.