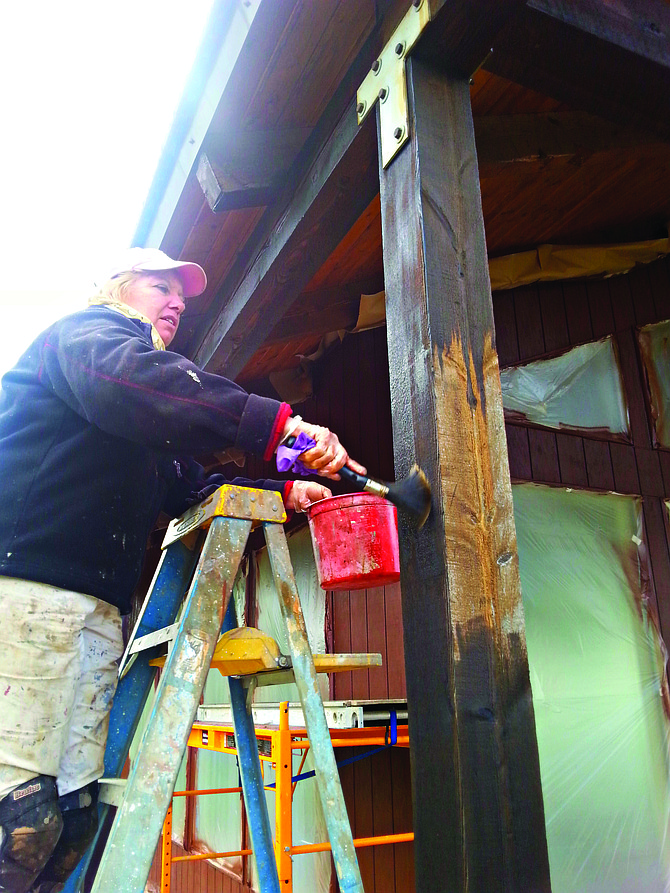 Photo by Lorie Palmer
Beth Plagmann of Beth's Custom Painting out of White Bird spent some time last Friday, Sept. 2, volunteering her time at Eimers Park where the mammoth replica is located. She painted the mammoth building and will also paint the gazebo.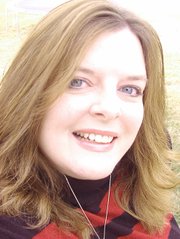 Join the Palouse Area and Camas Prairie cruisers at the Sunset Auto Vue Drive-In this Saturday, Sept. 10, for a show and shine. First, cruise on Main Street at 5:30 p.m., then head out to the drive-in for a barbecue. The feature show is Jason Bourne and a second movie will also be shown. Movie cost is $7.50. Drive anything out – everyone is welcome.
•
According to Zippia.com, at the bottom of the pay scale in Idaho are graduate teaching assistants, baristas and all food service workers, dishwashers, lifeguards, amusement park attendants, ushers and ticket takers and childcare workers.
At the top? Anesthesiologists, dentists, medical doctors, architects, engineers, judges, pharmacists and optometrists.
•
Bulldog cards, to benefit the Grangeville schools music department, are on sale now at the school. Cards are $10 apiece and are also available at Grangeville Flower Shop, Seasons, Pizza Factory, Grangeville Country Club, Shear Magic and Crema Café.
•
Hey, you might notice some of the organizations are running twice in the B section this week. Yeah, that was on purpose. Just checking you out. First person to notice and call me gets a candy bar.
First person to e-mail gets a prize, too. It pays to read the Free Press!
•
The Grangeville Merchants Oktoberfest 2016 event is in the works. The Flamingo Fun Run will begin the day with sign-ups at 9 a.m. There will be food vendors and locals with their crafts and wares for sale.
Any service organizations, youth groups, church groups, etc., are asked to sponsor one of the silly races or something different to do to raise money for their group. Orange cones and straw bales are planned for the obstacle courses for a unicycle, tricycle, pogo stick, and battery-operated children's 4-wheeler races. Additional ideas are face painting and a hula hoop contest. Sponsors have been obtained for the wiener dog races and the car-engine blow-up. Shirley's Dance group will be performing as well. Sign-ups for singers, dancers, musicians, magicians, and comedians for 9 a.m. to 4 p.m. at Heritage Square are currently being taken as well.
Mark your calendars for Saturday, Oct. 8. Contact Mary Beth at 451-6465, Nancy at 983- 0583, or Melinda at 983-1544 for more info or to sign up.
•
The Bureau of Land Management recently announced public input opportunities for six regional reviews that will analyze the existing energy corridors designated for oil, gas, and hydrogen pipelines and electricity transmission and distribution facilities on Western Federal lands under BLM or U.S. Forest Service management.
The BLM, Forest Service, and Department of Energy recently released a study of the effectiveness of these corridors (accessible at http://corridoreis.anl.gov/) that identified questions to be considered during subsequent regional reviews.
•
Average retail gasoline prices in Idaho have risen 0.5 cents per gallon in the past week, averaging $2.46 per gallon Monday, Sept. 5, according to GasBuddy's daily survey of 802 gas outlets in Idaho. This compares with the national average that has fallen 2.9 cents per gallon in the last week to $2.19 per gallon, according to gasoline price website GasBuddy.com.
•
Mindful Yoga with Deanna English will be held Sept. 13 through Oct. 6, Tuesdays and Thursdays, 8:30 a.m., at the United Methodist Church in Grangeville, 404 W. Main Street. Cost is $35 for a five-class punch card. Bring a yoga mat, block and strap and wear loose clothing.
Call 507-0165 or e-mail emergenceyoga@gmail.com.
•
The Kamiah Barbecue Days parade was amazing! Tons of entries and the streets were lined with people. Wow! I got to enjoy that, then rushed back to Grangeville for the beautiful wedding of Dylan Garrigus and Katie Hauger. Hard to believe that little blond, curly-headed toddler who was entertaining us at church with her sunglasses (those who were at the VBS program that year at the Nazarene church remember this) is now all grown up and married. Congrats to you!
It was a good rest of the weekend but if you're like me you didn't get nearly enough accomplished. Much to our youngest daughter's dismay, Valor and I asked two random people if we could pick fruit from their trees (they were happy we stopped and said, "Yes!") and so much of the weekend was spent preparing, drying and canning. That will continue the next couple of weeks. I hope your harvest is going well, too.