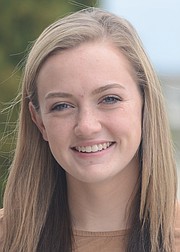 Grangeville volleyball standout Rachel Kelley doesn't pay much attention to her individual stats.
"I just go into the game trying my best and hoping to do well," she said. "I think we as a team are connecting really well, more than I've seen in past years. We have six seniors, and the younger ones are flowing really well."
She talked up the team's court coverage and communication, and said players are doing more to keep each other focused during matches, rather than dwelling on misplays.
"I get really in my head sometimes," she said, "where I'm like 'I'm not there,' or 'I'm not timed right' so I'll just roll it or tip it. But you know when it's going to be a good hit."
She said as a middle hitter, she just knows when Kally Arnzen's set will be "just perfect" for a big swing. "When I can feel my approach, that's when I know," she said. "When I've gotten back far enough and I can feel my body doing everything right — that's when I think I can take a big swing at this one."
She pointed out that on her hits, she's working off of the best sets Arnzen gets to make, because it takes a better pass to Arnzen to create a chance for a middle hit.
"The best are free balls," she said. "You know the team can handle it, that the pass will be there to Kally and she'll get it to someone in the front row."
Kelley's off-season running, weight lifting and other training has contributed to her fast start with the 4-0 Bulldogs.
"I worked out more than I had in the past," she said. "I wanted to be in shape to do my best."
This Bulldog of the Week athlete highlight is brought to you by: Idaho Forest Group.