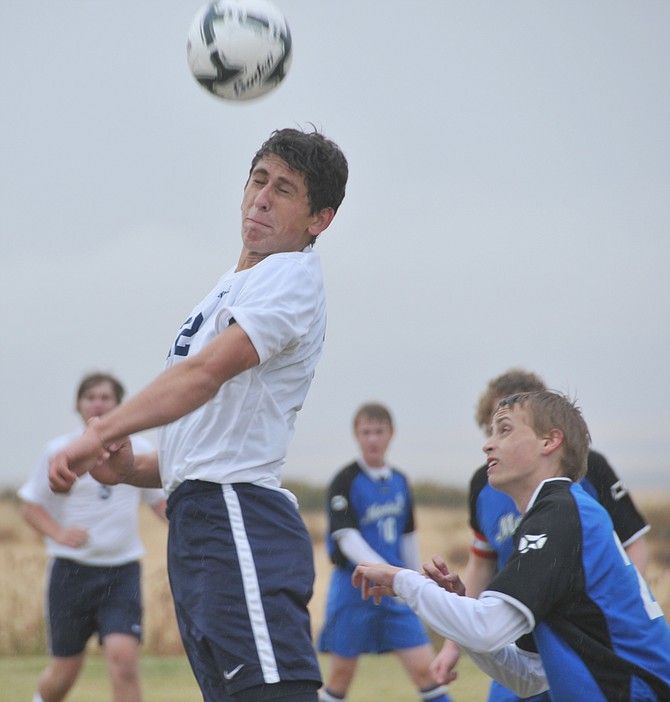 Photo by Andrew Ottoson
Ryan Ruklic, pictured controlling a long pass with a header, answered Orofino's first goal with one of his own Tuesday night, Sept. 6, establishing a lead GHS would not relinquish during a 7-2 victory in the team's first-ever home game.
GRANGEVILLE — The Bulldogs struck first, and struck repeatedly to beat Orofino 7-2 Tuesday night, Sept. 6, in front of their first home crowd. More than 250 turned out despite wet weather that slowed the action on the GHS pitch, located on the freshly-lined patch just west of the football field.
Grangeville notched the opening goal on a one-time crack from the foot of Alejandro Kopczynski to the back of the Maniacs net by way of a pass from Hunter Connolley during the 18th minute. Orofino equalized in the 27th, but Ryan Ruklic restored the lead to GHS and Brenda Gomez cemented it with what proved to be the winning goal. Connolley followed with a goal off a setup from Faith Bruzas, then Orofino notched its second -- both of the Maniacs goals were struck by Anton Hahn.
Kopczynski tallied again in the 66th, and Connolley scored in the 69th. Amador Perez capped it off with a marker in the 72nd.
"Our passing and shot placement was much better this game by everyone on the roster," coach Mike Connolley said. "I was really excited that two of our goals came from players off the bench, which is evidence that the kids are playing well as a team and working the ball around to the one with the best scoring opportunity. I'm thrilled with the crowd that showed up to support the team and I'm glad the kids rewarded them with a victory in our first ever home soccer game."
Up next, Grangeville will play the Lewiston JV at Orofino on Monday, Sept. 12, with the start slated for 7 p.m.