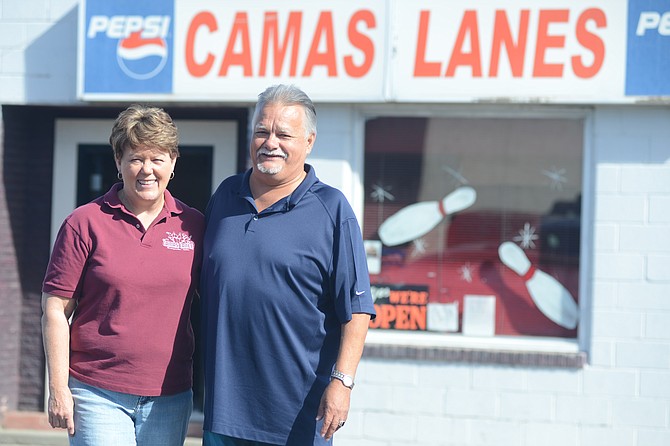 Photo by Andrew Ottoson
Louie Serrano (right) bowled his 16th perfect game Sept. 8 at Camas Lanes, where to the best of the owner-operators' knowledge, it was the first 300 game in facility history. Representing the bowling alley in the photo is Brenda McRoberts, who runs Camas Lanes with her husband, Doug McRoberts.
GRANGEVILLE — It was a perfect first night of the new bowling season.
Doug McRoberts knew it would happen this year, because he knew Louie Serrano had bowled 15 previous perfect games. McRoberts, who owns and operates Camas Lanes in Grangeville with his wife, Brenda, had come close as others had in recent years. The facility record stood at 297 until the breakthrough came last night, Sept. 8, when Serrano made a bit of local history when he rattled off 12 strikes in a row for Camas Lanes' first-ever 300 game.
It was Serrano's 16th perfect game, having bowled others at bigger bowling alleys, such as in Lamar, Missouri, in Santa Ana, California, in Riverside, California. He said Camas Lanes is the smallest facility in which he has ever bowled 300. The perfect game came on lanes three and four.
Brenda McRoberts said Serrano is the only 200-average bowler at Camas Lanes.
On April 4, 2015, Louie married into a Grangeville family, and Serrano and his wife, Jolene, operate Grandma Jo's House Day Care in town.
This fall, he's bowling with the Far North Brokerage team in the Thursday Merchants Men's league at Camas Lanes. He rolls a Storm Alpha Crux ball.
"I would like to thank Doug and Brenda," Louie said. "Without them, I wouldn't be practicing."
More like this story