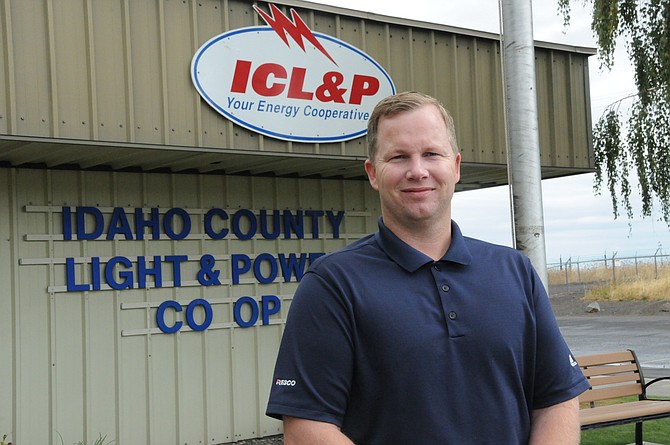 Photo by Lorie Palmer
Max Beach is the new general manager for Idaho County Light and Power.
If Grangeville had a sister town, Weaverville, Calif., would be it, said Max Beach.
Idaho County Light and Power's new general manager grew up in the Northern California town of 3,500 people.
"It was very rural, and really, Grangeville reminds me so much of it," he said.
Beach and his family – wife, Jennifer, and daughters, Addison, 6, and Collette, 3, — moved here the end of this summer and he started his new job Aug. 22. He took the helm from retiring GM Jake Eimers.
Beach grew up on his family's ranch and throughout college he pulled greenchain at the local lumber mill. He attended college in Chico and studied public administration with plans to go into law enforcement.
"My parents owned a tow truck business for 30 years and we had a good relationship with law enforcement," he said. "I really thought it was my career path."
However, when his father became ill and he moved home to take care of him, his life simply took another turn and it was then a friend asked him if he had ever considered the local PUD as an employer.
Beach ended up attending lineman school in Meridian and went on to work for Pacific Power in Oregon for five years. He spent time as a meter reader and moved up the ladder, working up to an assistant district manager. He most recently comes from five years with Sheridan Electric Cooperative in Medicine Lake, Mont., where he was line superintendent.
"I started at an entry-level position in the industry and have worked my way through, learning each step of the way," he said.
Medicine Lake was a town of about 250 people and though he said his family "really liked" the area and people, he had hoped to one day get back to Idaho.
"We were very content in Montana," he said. "I was very selective about moving and if that were to happen I wanted to make sure it would be to the right area and the right company." Beach said he feels he has found that perfect position at ICLP.
"I am very passionate about this industry and am excited as ICLP goes into its 78th year," he said. "I really would like to spend some time this next year talking with members of the community to differentiate ourselves — letting people know what makes us unique as a power cooperative."
ICLP is a local, not-for-profit electric cooperative that is controlled by its members through a board of directors. ICLP has more than 3,800 members (3.2 members per square mile) and employs 15 people. Twenty years ago, the co-op added propane to its service.
Beach said he looks forward to becoming involved in the community both personally and through the ICLP business. When not working he enjoys golfing and outdoor activities and hopes to spend some time exploring the county and surrounding area with his family.
Beach can be contacted by calling 983- 1610 or e-mail mbeach@iclp.coop.