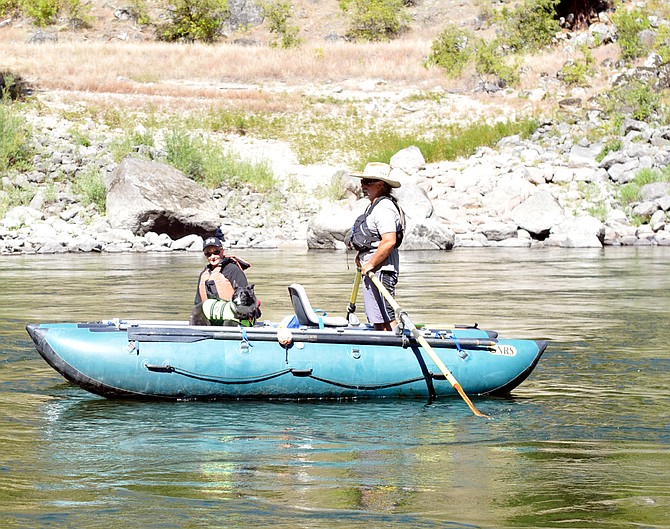 Photo by Laurie Chapman
April Allen sits on a drift boat with her Clearwater County Search and Rescue Team cadaver dog, Kayla. The team worked Sept. 10 on the Salmon River at French Creek trying to locate any signs of Austin Kelley who disappeared Sept. 4 while trying to swim across the river. Kayla did notate a scent and dive teams searched the site but were unable to locate any signs of Kelley.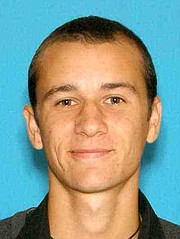 RIGGINS — "If there had been a sign, it wouldn't save a lot of lives, but it would have saved Austin's."
Jared Ross, father-in-law of presumed drowning victim Austin Kelley, talked Saturday, Sept. 10, about his disappointment there is not some marker at the site outlining the dangers inherent in the river. He spoke quietly, not with anger but a sorrow running deeper than the 48-foot current of water flowing in the Salmon River. 
Kelley, a 26-year-old athlete, was not a risk taker, Ross said. He described Kelley as "very calculating." He wouldn't have stepped one foot in the water had he known the dangers lurking under the surface, he said.
It's easy to be enticed by the seemingly placid waters, especially if you are not familiar with the river. But under the surface is a rolling current that quickly turns into eddies. The 48-foot deep river is filled with boulders, some the size of houses.
Ross said looking at the water, it's easy to believe how a 6-foot, one-inch and 190-pound athlete could believe they had the stamina to cross the river.
Ross spoke Saturday at the site Kelley was last seen trying to cross the Salmon River at French Creek last Sunday. Ross and several friends of the family were gathered with Idaho County Sheriff's Deputy Jonny Wilson, Salmon River Dive Team and a cadaver dog in an attempt to locate Kelley.
Kelley disappeared Labor Day weekend while fishing with friends in the Salmon River. The men had decided to cross the river and trek up the opposing mountain to a hot spring. Kelley, who was not wearing a life jacket, disappeared and his friends were unable to retrieve him. He has not been seen since.
Kelley was visiting Idaho County from the Olympia, Wash., area where he lived with his wife, Morgan, and their 3-month-old daughter. He was an engineer with HDR, Inc., and an assistant soccer coach.
According to Mark Griffiths of Edmonds, Wash., Ross's friend and father-in-law of Kelley's close friend, Kelley had just achieved it all. Kelley and his wife had just bought a beautiful new home. The couple were deeply in love and recently had a daughter.
"It's just so tragic," he said. "He was such a good guy - an honest, good guy."
About 10 to 15 people assembled Saturday morning in the hopes of spotting some sign of Kelley. By 1 p.m. the search began in earnest when a Clearwater County Search and Rescue Team's cadaver dog was placed in a drift boat to search the river. Fred and April Allen of Orofino brought their border collie/English shepherd mix to the scene hoping to detect the scent of human gasses at the surface of the water.
Fred Allen explained how a body will release gasses to the surface of the water in a certain radius from its final resting point. The dog, Kayla, will detect the scent of the gasses and indicate this to her trainer April, sometimes with a nudge and other times with a whimpering sound.
There also was a SARbot (or remote underwater search and rescue vehicle) team hired by friends of Kelley's from Olympia, Wash. Another friend, Mike Smith of Bend, Ore., brought his drone to survey the shorelines and surface of the water for any evidence.
Wilson said volunteers from Billings, Mont., coordinated with the SRDT to assist in the search. Local outfitters also donated the use of boats, he said.
"We have a comprehensive plan for today and tomorrow," Wilson said.
Smith said he had been alternately scanning the water surface and charging the drone battery all day Saturday. He traveled to Riggins three days prior in the hopes of assisting in the search. As of Saturday afternoon, no signs of a body were detected along the shoreline.
Kayla did have better luck on Saturday, however. Kayla indicated several times in one particular area of the river, directly over the sight Kelley was last seen, Wilson said. The SARbot was then sent to the location but was unable to detect more information he added.
Finally, the dive team from Billings, Mont., went in, and Wilson said the diver was underwater for two hours 45 minutes at a depth of 48 feet. Again, there was no sign of Kelley.
Wilson said a body will typically remain "hung up" underwater for seven to 10 days. Through the natural processes of the body decomposing, it begins to release gases and will then surface.
"We're at eight days now, so we're hoping it will be any day now," Wilson said.
He added the sheriff's department is not officially working the scene on Monday, Sept. 12, but family remains along the river waiting for answers.
He also noted a sign has appeared at French Creek, near where Kelley drowned that reads: "We have had too many good people die here. Please don't swim or boat here without a life jacket."