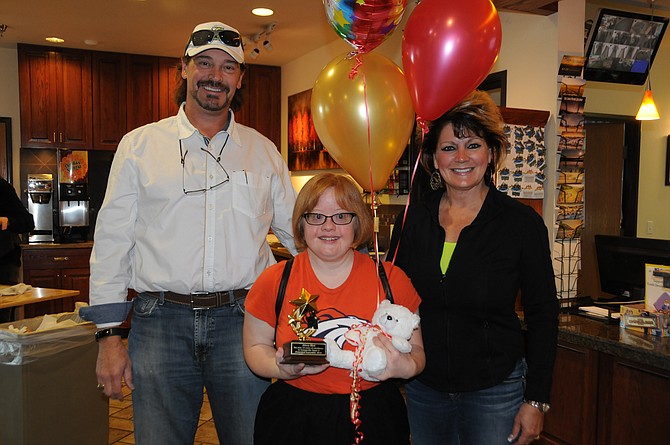 Photo by Lorie Palmer
Grangeville Super 8 Motel owners Ted and Wendy Lindsley acknowledged a special helper Friday, Sept. 9. The Lindsleys honored helper Alexa Bird of Grangeville who spends time each week at Super 8 working in the pool room, cleaning it and washing windows and more. She comes to the business with a job coach and has been doing so for more than a decade. The Lindsleys gave her a trophy, balloon and teddy bear. Bird beamed her "thank you," wiping away tears of joy at the recognition. "She's definitely one of our best helpers," Ted said. Pictured here are (L-R) Ted, Alexa and Wendy.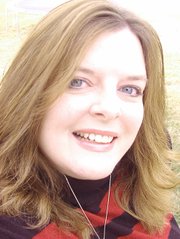 Grangeville Country Club has lowered the greens fees now through Oct. 31. Play a round of 18 holes for $20 or nine holes for $10. Stop by while the weather is nice!
•
Harman Agency will host its fall grower meeting Friday, Sept. 16, 5:45 p.m., at the Cottonwood Community Hall. Topics will include the fall price announcements, sales closing Sept. 30, winter coverage endorsement and revenue protection for dry peas. Drinks and dinner will follow the meeting. RSVP to 962-3221.
•
Mac's Bar in White Bird is open for business and on Thursday, Sept. 14, they will be having a special – a crispy BLT chicken sandwich.
•
Wells Fargo would like to invite any teens and their parents who are interested in financial literacy to join them in celebrating Teen Day. Come in to your local branch on Friday, Sept. 16, between 9 a.m. and 5 p.m. for a treat and some financial materials. A banker will be available to answer any questions. Call 983-0101 for further information.
•
The Grangeville Merchants Oktoberfest 2016 event is in the works. The Flamingo Fun Run will begin the day with sign- ups at 9 a.m. There will be food vendors and locals with their crafts and wares for sale.
Any service organizations, youth groups, church groups, etc., are asked to sponsor one of the silly races or something different to do to raise money for their group. Sign-ups for singers, dancers, musicians, magicians, and comedians for 9 a.m. to 4 p.m. at Heritage Square are currently being taken as well.
Contact Mary Beth at 451-6465, Nancy at 983- 0583, or Melinda at 983-1544 for more info. or to sign up.
•
White Bird's Canyon House will be holding its fall clearance sale Sept. 17 and 18 during regular business hours. There will be 10 to 60 percent off, so stop in and see what's available.
•
Avista Utilities will host an energy fair at Cottonwood Community Hall, 506 Knight Street, Tuesday, Sept. 20, 3-6 p.m.
Learn how to save energy at home and get answers about energy assistance. Free parking, food, beverages and weatherization items will be available. In addition, a kids activity area with crafts and interactive online games will be set up.
If any accommodations for persons with disabilities are needed, call 509-495-8024 or e-mail AvistaOutreach@avistacorp.com.
•
There was a little contest through this column last week and my first e-mailer and caller each won a king-sized Hershey bar and a 2017 Farmers' Almanac. My e-mailer was Reyna Phillips and caller was Michelle Perdue, both of Grangeville. Prizes are ready to be picked up at the Free Press office. Thanks for playing!
•
Last week the Brown Bag historical session with Lt. Detective Jerry Johnson, ICSO, was very interesting. He talked about the murder of Joe Tucker up by Lolo Pass by Dennis Orr. It is a tangled story and very intriguing. Johnson had a great presentation with Google Earth maps, a Powerpoint timeline and photos. The '80s were tough years in Idaho County where non-Idaho residents committed a handful of murders in our county. Unfortunately, we are still paying for some of those cases as they have been on appeal for years.