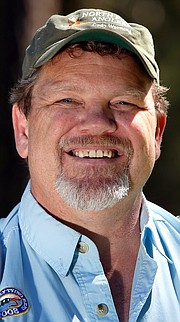 GRANGEVILLE — James Piotrowski grew up in a family that emphasized public service; his parents were involved in service and youth organizations. And in his legal career, Piotrowski took that service to heart in representing the real needs of working people, the disabled community and helping to enhance and protect civil rights, he said.
"This race is an extension of that," he said, "to make Idaho the best it can be while respecting what it already is."
Piotrowski (D) of Boise, will face off against incumbent First District Congressman Raul R. Labrador (R) in the Nov. 8 general election. He recently visited Grangeville as part of his campaign stops across the First District.
His entry into the Congressional race was to address what Piotrowski said is a lack of leadership by Rep. Labrador.
Labrador's proposal for transferring public lands to state and private control was the issue that got him to run, he said, a "radical change" from what Idahoans value. Idaho's 21 million acres of public lands, "that's a problem to him; that blew me away," he said. On these lands is where he and other Idaho families have taught their kids to hunt and fish, raised them with outdoor values: "That's not a problem we have to solve."
Economic recovery is slow in Idaho, and people are hurting, according to Piotrowski, and solutions can come with investments in the state's infrastructure as well as people. Idaho's economy is based on production – agriculture, timber, mining – that is largely shipped to outside markets, he said. Every time the state's economy has seen a boost has been when those connections – roads and bridges – have been improved, he said.
Investments are needed in post-secondary education, he said, as well as job training. Loans for funding education should be cheaper, but he continued that a four-year college plan should not be the only end path for high school graduates: "We need to offer a lot more options," Piotrowski said, in vocational training, in apprenticeships that provide young people marketable skills as well as a salary.
"Taking care of veterans is important to me," Piotrowski said, noting there are approximately 140,000 veterans in all of Idaho. His father retired a full colonel and knew how to navigate the system, but not all veterans do coming out, he said. "They need a system that is easier to navigate and ready to provide the benefits they need," he said, and better medical coverage that focuses on their unique needs than just the VA hospital in Boise. He sees veterans' care as a national duty: "If you're going to risk your life for us, then we will take care of you," he said.
Piotrowski looks at the four members of Idaho's legislative delegation as a force to influence the system, not just in Washington, D.C. but at the state level, "providing leadership on the ground," to make progress on the local level, such as with public lands issues and being part of collaborative processes.
Commenting on his chances against an incumbent Republican in a strongly red state, Piotrowski discussed Democrats and other party challengers generally do better in Presidential year elections. But this year, with what we're seeing in the Presidental race, he said, "people want change," someone who will make the First District a priority and produce results for the state – as opposed to Labrador in his six years in office, according to Piotrowski – "and I'm the change this time around."
 •
Information on Piotrowski's campaign is available online at www.votepiotrowski.com/ .