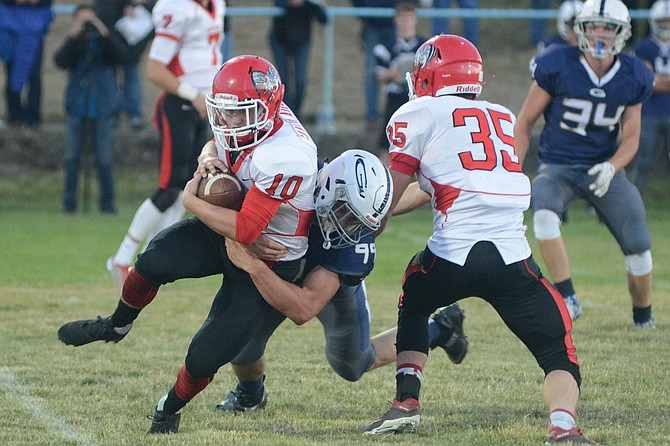 Photo by Andrew Ottoson
Grangeville's Noah Kaschmitter wrecked Clarkston's opening series, and, after the Bantams botched their punt attempt, he scored the game's opening touchdown. He later added a 63-yard touchdown run, but Clarkston escaped with a 33-26 win last Thursday night, Sept. 8.
GRANGEVILLE — The Bulldogs gained a late chance to tie when Frankie Zumwalt recovered a fumble, with Clarkston turning it over in the course of trying to run out the fourth quarter clock. But the Bantams defense rose to the occasion and kept GHS from advancing near their goal during the final three minutes of their 33-26 win last Thursday night, Sept. 8.
During the first half, Grangeville led 6-0 on a run by Noah Kaschmitter, 12-6 on a run by Luke Stokes and 20-14 on a run by Jon Chamorro. Clarkston equalized late in the second quarter as AJ Davis connected with Derrick Hoene. Grangeville blocked the point-after kick to keep it 20-20.
The Bulldogs broke a huge touchdown run on the first play from scrimmage during the third quarter, with Kaschmitter racing 63 yards down the home sideline.
But GHS couldn't keep Hoene in check; he scored twice more, with the equalizer on a 10-yard pass from Davis and the game-winner, a 62-yard reception, on the first play of the fourth quarter.
"When their receiver is 6-2 and your cornerback isn't that tall, you're not going to win that matchup — unless you have Austin Parks out there," GHS coach Jeff Lindsley said. "I don't think we were out of shape, but we were tired. They can rotate so many more players. But this group, they're tough and physical and we're going to need the younger kids to get reps and get more confidence. And you have to remember, a lot of the guys we're relying on are sophomores."
Lindsley held out praise for Stokes and Kaschmitter and observed that when the backs ran where the plays were designed to go, they found lots of room even against the bigger players Clarkston boasts across the front line.
Examples of well-executed runs included a couple that Kaschmitter took to the outside, including the long touchdown run, and Lindsley noted that for those to work, GHS has to take advantage of the opposing defense's overplays against Grangeville's bread-and-butter runs into the middle of the field.
He said Grangeville's senior leaders have been stout, particularly Stokes — who he called the alpha dog — and Zumwalt, who he said leads by example.
Coming — Grangeville (1-2) has a trip to McCall-Donnelly coming up Friday night, Sept. 16, followed by a Friday night at home against Parma on Sept. 23, followed by a Thursday night at Lewiston Sept. 29.
After that, it's league play, with St. Maries coming to Grangeville Oct. 7 and Grangeville visiting Orofino on Oct. 14.
"McCall is much improved," Lindsley said. "They have the same quarterback, a big, tall tight end, and they run eight formations."
McCall beat Orofino 18-14 during Zero Week.