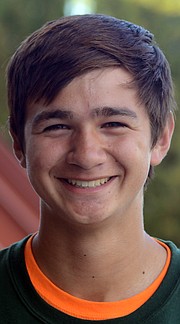 Grangeville senior Alejandro Kopczynski scored twice against Orofino last week — his first goals in a Bulldogs uniform — and in the process lifted GHS to a 7-2 win over the longer-established Orofino program.
With the news this week that Grangeville's new team will be able to play at the district tournament this fall after all, Kopczynski and the other GHS seniors now have a shot at adding a few more games to their slate.
"I've been playing soccer for 10 years," he said. "I have twin sisters. They played soccer before me. They drug me into it, and I fell in love with it."
The goals came during the run of play, off of a nifty passing combination in the middle of the field.
"The only time you ever make goals is if someone feeds it to you," he said. "I was running up the sideline as right wing and Hunter Connolley fed it straight down the middle and got me right open. It all came together."
Kopczynski played in Clarkston before coming to GHS and had previously played the Monday night foe, Lewiston JV.
"I went to Summit Academy in Cottonwood and then we came down here," he said. "
Kopczynski said his experience with the soccer team has been a good one.
"It's new to me because it's a co-ed team and I'd never played on a co-ed team," he said. "Even with not all of us playing together before, we have really good chemistry. I like it."
The team has grown after a rough start at Moscow.
"We're talking to each other on the field now," he said. "I like how we've come along since then."
This Bulldog of the Week athlete highlight is brought to you by: Idaho Forest Group.