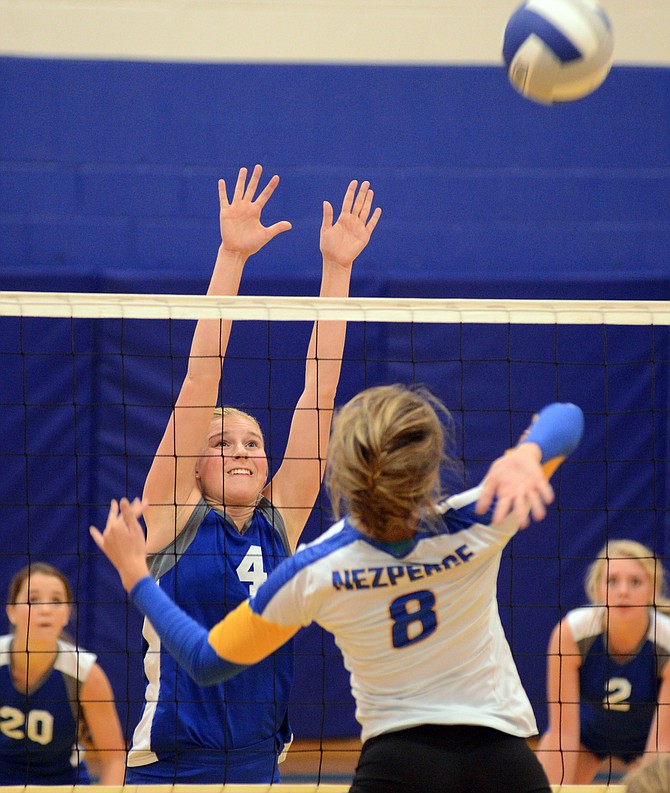 Photo by Andrew Ottoson
Salmon River senior Sarah Laritz (4) went up strong and made the block against Nezperce sophomore Hannah Stapleton during the Savages straight-sets win Saturday.
NEZPERCE — Salmon River had no trouble with the host Indians, taking the Saturday morning match in straight sets (25-9, 25-12, 25-20).
The Savages jumped out to a 3-0 lead in the first game on a kill by Sarah Laritz, who notched points on a tip at 4-2, spikes at 7-3 and 9-5 and then on serves all the way through 14-5. After that, Nezperce committed several attack errors, bringing Chevelle Shepherd to the serve line at 21-9, and she finished the opening game. Shepherd served a couple of aces and Laritz notched game point with yet another hard hit.
SRHS led the second game 20-8, after which coach Paula Tucker worked the reserves into action.
"I was proud of my team's communication and teamwork," Tucker said.
GHS thumps Cascade
GRANGEVILLE — The Bulldogs had no trouble with the Ramblers, as GHS won 73 percent of the points they played in a Thursday night sweep (25-12, 25-4, 25-12).
Katrina Frei served aces on each of the last two points of the match, with Sophia Bush having run the third game score from 7-6 to 13-6.
"We played well," GHS coach Kelcey Edwards said. "Our serving was good again. We served a lot of aces and we moved the ball around with different variety of serves. We are making the other teams work hard to start their offense."
Pirates upend Lapwai
COTTONWOOD — The Pirates "had some kinks to work out" of a new lineup, but Prairie was "able to generate more offense," coach Cheyenne Hudson said. PHS beat Lapwai 25-23, 25-23, 19-25, 25-19 Thursday night.
Chaye Uptmor had 20 assists, 11 kills and 10 digs and all six starters had seven or more kills, Hudson noted. "We had 15 aces and everyone had 10 or more digs," she said. "It was totally a team effort."
KHS popped by Potlatch
KAMIAH — The Kubs ran hot and cold against Potlatch Thursday night, and the Loggers prevailed in straight sets (25-18, 25-17, 26-24).
"I think we are just really young right now and it is going to take awhile to play well consistently," KHS coach Leah York said.
Lacey Kludt had six kills, and was 21 for 21 on serves. Lexy Snyder had five kills and two stuffs, and she went 18 for 19 serving. Makenna Jagow had three kills and went 16 for 16 from the serve line.