RIGGINS — After 11 days of waiting, the family of Austin Kelley, 26, of Tumwater, Wash., has answers to his disappearance.
A call came into the Idaho County Sheriff's Department at 9:23 a.m. Thursday, Sept. 15 to report Kelley's body had been spotted.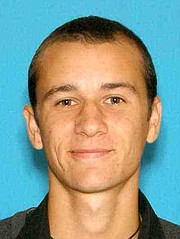 Kelley disappeared Sept. 4 while fishing with four friends in the Salmon River east of Riggins. Kelley had attempted to swim across the Salmon River and was reportedly not wearing a life vest at the time. Friends were unable to assist him after he was caught by a current. He surfaced once and then disappeared.
A press release issued by the Idaho County Sheriff's Office states family and friends were at French Creek watching the Salmon River when the victim surfaced approximately 50 feet from where he was last seen. Sheriff Doug Giddings said family have been stationed at the site since Sept. 5.
Kelley's stepfather-in-law, Jared Ross, hired multiple search teams in an effort to find Kelley. Dive teams and a cadaver dog searched the site Saturday, Sept. 10, hoping to get an indication of where the victim was located. Giddings said the dive team and another cadaver dog was brought in Monday, Sept. 12.
Both days the dogs indicated a scent at a location close to where Kelley was last sighted. Dive teams were unable to locate Kelley either day.
The Idaho County Sheriff's Office, Idaho County Sheriff's Search & Rescue, Riggins Dive Team, Clearwater County Search Dog, Idaho Department of Fish & Game, friends and family all participated in the search for Kelley.
Kelley has been taken Blackmer's Funeral Home in Grangeville.