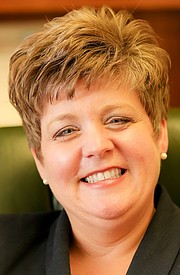 GRANGEVILLE — In discussing her race, candidate for Idaho Supreme Court Justice Robyn Brody said Idahoans she's talked with across the state share a common view.
"More than anything," Brody said, "they want to be able to trust their justices will uphold the law and that they will apply the law equally, no matter who walks in the courtroom, and that their voice will be heard and considered."
Brody notes she has a "broad background" with 20 years representing a range of clients; and living in Rupert – a community of around 5,000 – she brings with her, she said, a needed rural perspective outside of the Treasure Valley that is "absolutely critical," all of which she said makes her the standout in this state race.
"It's important for the court to understand one-size-fits-all procedures and policies don't always make sense," she said, as what works in Ada County may not, for example, in Minidoka or Idaho counties.
As part of the Nov. 8 general election, Idahoans will be determining between Brody and Curt McKenzie of Boise to succeed retiring Jim Jones as supreme court justice.
Brody is a graduate of the University of Denver, earning a law degree and a master's in international business. She practiced law for 13 years in Twin Falls before moving to Rupert in 2010 to start her own firm. She has been married for 20 years and has two boys, ages 8 and 10. Brody came to Grangeville last Friday, Sept. 9, the 35th of Idaho's 44 counties she plans to visit prior to election day.
For voters wondering on what the justice race means to their everyday lives, Brody emphasized two points: The Idaho Supreme Court is the final word on what law is in the state, and it is also responsible for managing all its courts. She calls it the "court of the ordinary," meaning it handles much of what people are dealing with on a day-to-day basis, from contract and planning and zoning disputes to child custody and divorces.
Brody said her background has been representing the working people of the state, farmers and ranchers, to school districts "and the guy off the street who needs help in filling out an unemployment claim," she said. That background would be an asset, she said, to cases the Supreme Court handles, and in overall managing the system.
"We've only had two women on the court in the state's history," Brody said, "and it's been nearly 10 years since the last one left the bench." Men and women come at issues in slightly different ways, she continued, and having that balance in perspective on the court she sees as improving the process.
Issues she sees facing the court include its ongoing upgrades to record keeping being available on the Internet. Two counties, Ada and Twin Falls, are up and running now. "It's an enormous task," Brody said, "to get court staff to change how they do business, for lawyers on how they do business," but the end result, she continued, will be better access to the courts by the public in services such as tracking cases of interest, confirming hearing dates and the ability to download documents, as well as for lawyers to complete filings online.
Another challenge is within five years, around 55 percent of the judges in Idaho will be eligible for retirement, she said, and so the state should be looking at ways to both recruit and retain qualified persons. Salaries are low in comparison to other states, as well to what they could be earning in the private sector, so part of the solution is working with the Idaho Legislature on improving salaries and benefits.
"It also takes talking about fostering a culture of service within the bar," Brody said, that the position of judge is more important than the monetary compensation.
"I spent my whole career fighting for people," Brody said, "and I know they want to be heard."
On making a determination for justice, Brody recommends voters review the online Idaho State Bar Survey on judicial candidates that ran prior to the May primary, available here: isb.idaho.gov. Idaho Public Broadcasting will also host a judicial candidates' debate on Oct. 28, 7 pm. (MT).
Brody's information is also available online at http://www.brodyforsupremecourt.com .