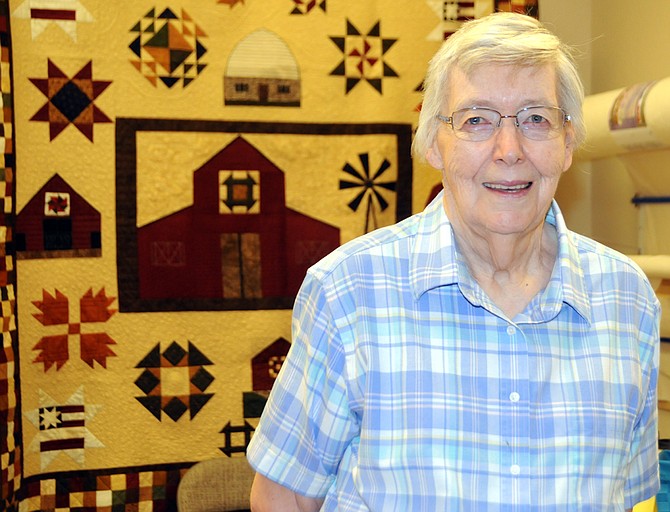 Photo by Lorie Palmer
Marietta Hanson is the featured quilter for the 10th Biennial Sew-Ciety Guild show Sept. 24 and 25.
If you go to the show:
GRANGEVILLE – The Sew-Ciety Quilt Guild 10th Biennial Quilt Show is set for Saturday, Sept. 24, 10 a.m. to 5 p.m., and Sunday, Sept. 25, 11 a.m. to 4 p.m., at Grangeville Elementary Middle School cafeteria/old gym.
Admission is $3 with children 12 and younger getting in at no cost. Vendors, jar raffles and a general store will all be available. Lunch will be available for purchase through Superior Events (Shiznits) as a Grangeville High School soccer fund-raiser.
Tickets for the Camas Prairie Barns quilt are $5 for six tickets or $1 for one.
GRANGEVILLE — Marietta Hanson's mother started sewing for her at a young age out of necessity.
"They just didn't make clothes suitable for tall girls," Hanson laughed.
She also made her own clothes, then sewed for her children. In the '90s, the next logical progression was to take up quilting.
"I really enjoyed picking out fabric and seemed to have a knack for it – putting the right pieces together," she explained.
Hanson is the featured quilter for the Sew-Ciety Quilt Guild's 10th Biennial Quilt Show set for Sept. 24 and 25.
Nowadays Hanson sews quilts for herself and others and has become especially involved in the Quilts of Valor program and said she enjoys making quilts for area veterans.
Self-taught with hands-on learning and a few classes along the way, Hanson is well into at least her third Viking sewing machine.
"I simply wore the others out during the years with lots of use," she smiled. "It would have taken too much to have them repaired compared to just purchasing a new one."
Hanson participates in Sew-Ciety club challenges and was one of about 15 members who helped create this year's raffle quilt, Camas Prairie Barns. One lucky person will win this creation, which was quilted by Jody Hoogland of Home Grown Quilts.
Hanson has made quilts for her children and grandchildren and has also kept busy sewing purses, bags and wall hangings.
She encourages any area quilter – need not be a member of a local club – to enter their work at the show. Entry forms can be picked up at Home Grown Quilts, Quilt Treasures or from any club member. In addition, quilt drawing tickets can be obtained through the same avenues as well as at the show. The quilt winner will be drawn Sept. 25.
Sew-Ciety Quilt Guild meets the first and third Tuesdays of each month, 7 p.m., at Home Grown Quilts. Hanson said anyone is invited to stop in and see what the club, sewing time and challenges are all about. Currently there are about 30 members.