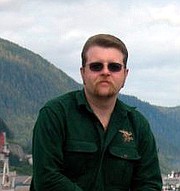 Dear Bwana,
I live just outside of town in the foothills and several times recently have seen flashes of movement outside the bathroom window while getting ready for bed.  I've seen the guys on TV looking for Big Foot and was wondering if there have been any reported sightings in the area?  Maybe we have a Sasquatch in Grangeville!
Let me know what you think,
Meagan
Dear Meagan,
Sasquatch is a prominent figure in the history of the Pacific Northwest, a tale which has its roots set in native lore, the term itself translating to "hairy giant".  Long before modern terms such as Big Foot were coined, many tribes had their own names and legends for a large, ape-like monster who would sneak around villages after dark.  The intent of these wild stories was obviously to keep the children from venturing off into the night unattended.   The first sighting by white settlers supposedly occurred in 1811 near Jasper in Alberta, Canada.  Over the last two centuries a multitude of encounters have been reported, a large collection of theoretical spore obtained and even a few grainy pictures and videos taken of the hulking beast.  The most famous footage was captured along the Klamath River in 1967 and is known as the Patterson-Gimlin film.
In our younger years, my brother and I actually suspected a prominent Grangeville resident of at least having Big Foot lineage.  Our suspicions were heightened one summer evening while observing the individual in question walking across Main Street with a case of Kokanee beer.  As he glanced back over his shoulder, swinging the 12-pack behind in one fluid motion, we knew with all certainty this was the legend!  Time has a way of taming the imaginations of young boys, however, and that particular fellow actually became a good family friend as the years passed.
With my own forays into the Big Foot hunting realm bearing little fruit, I can only make vague assumptions as to his stature and habits based on common belief.  Supposedly, an average sized squatch stands at least six feet from head to toe, has gangly arms and walks with a distinct hunch resembling the posture of a Cro-Magnon.  From his appearance, one could surmise he is an omnivore, much like you and I,  probably feeding on lush plants in the spring, blueberries in late summer and whatever carrion he can find in the fall and winter.  His long, furry coat allows him to withstand the coldest of winters and considering this characteristic, we can guess that he is not a migratory animal.  One could also draw the conclusion, from his Spokane coffee shop-like hairstyle that he is indeed a nocturnal creature, the long, wispy hairs about his body serving as sensory tools in the dark much like the whiskers of a cat.
By far, the most widely accepted aspect of a Sasquatch's behavior is that he is extremely shy and will avoid human contact at all costs.  This singular trait leads me to believe, whether Big Foot is real or not, that you have what is commonly referred to as a "Peeping Tom" on your hands.  Now, before you get flustered, relax and realize that such individuals rarely cause harm.  If you would like to investigate whom the perpetrator may be, they all seem to fit a similar profile.  Most likely, you are looking for an unemployed, middle-aged, white male who grew up on the South Fork of the Clearwater.  As a child he was forced to paint his mother's toenails twice a week or face the wrath of her boyfriend, Earl.  He currently sports a mullet and spends his days playing Pokemon Go, watching the Lord of the Rings saga and will be easily recognizable by his tattered orange T-shirt that says, "I Want To Be A Trucker".
One word of caution.  This type of individual usually has a vivid second life on social media and will go by a fictitious name on Facebook, something to the effect of Lester Ben Pimpin.  I guess what I'm saying is, if you don't want scantily clad photos of yourself all over the Internet, close your blinds!
Thanks for the question and sleep well!
Bwana