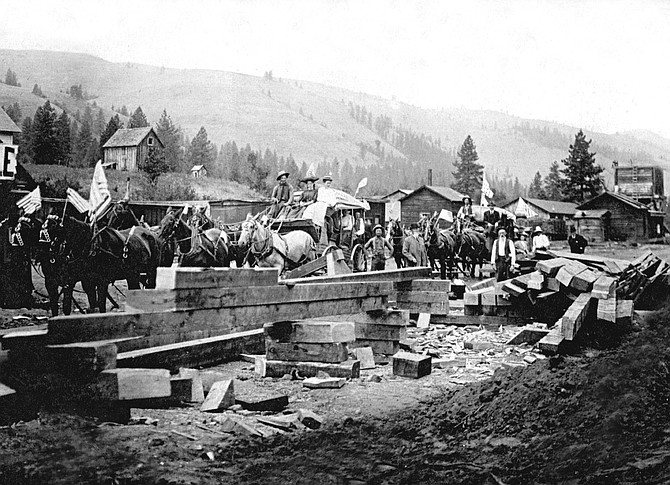 10 YEARS AGO September 27, 2006
•RIGGINS - A newly formed advisory commission will focus proactive efforts on planning for growth and development in the city of Riggins.
20 YEARS AGO September 25, 1996
•Survey will determine whether second traffic signal is needed for Grangeville's Main Street.
30 YEARS AGO September 17, 1986
•The Snowhaven Ski Board will sponsor a "Snowhaven Unlimited Banquet" to benefit the ski area.
40 YEARS AGO September 29, 1976
•COTTONWOOD - Congressman Steve Symms spoke about the problems facing the American farmer during an apple juice reception and dinner at Cottonwood Community Hall.
50 YEARS AGO September 22, 1966
•The water situation continued to improve this week and a more liberal irrigation schedule was announced by Walter A. Canaan, water supervisor.
60 YEARS AGO September 27, 1956
•A new addition to the City of Grangeville, sponsored by Wes Jenkins and George Klein, is nearly ready for annexation.
70 YEARS AGO September 26, 1946
•At least half the apartments in the veterans' housing project in Grangeville have been occupied and the balance have all been applied for and allocated, according to Mayor G. W. Eimers, who has been spending a lot of time of late helping with arrangements.
80 YEARS AGO September 17, 1936
•On Friday the children of the Grangeville schools and Adkison school will have the privilege of having the tuberculin test if their parents wish it.
90 YEARS AGO September 30, 1926
•Football coming back to Prairie Towns: Nezperce, Kamiah, and Orofino among the ones to take up the game.
100 YEARS AGO September 28, 1916
•Grangeville boy plans to take artillery horses to the war front in France.
v v v
E-mail your historic photo with details to: Freepressnews@idahocountyfreepress.com