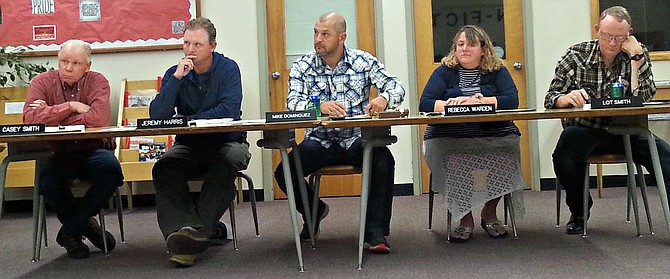 Photo by Lorie Palmer
The Mountain View School District board of trustees listens to reports from staff, administrators and audience members at the Sept. 19 meeting in Kooskia. Pictured (L-R) are Casey Smith, Jeremy Harris, Mike Dominguez (chair), Rebecca Warden and Lot Smith (vice chair).
First reading meeting set for Oct. 17
The policy will come to the board for its first official reading in October. It will also have to be read another two times following that, prior to it being voted on.
The public is encouraged to attend the meeting which is set for Monday, Oct. 17, Grangeville, 5:30 p.m.
KOOSKIA — "I think we have a good [draft] weapons policy," said Mountain View School District 244 board chair Mike Dominguez, zone 4, Kooskia. "This is something we've been working on for two years and that has actually been discussed at meeting for five or six months. A lot of time and effort have gone into it."
Dominguez spoke to fellow board members and an audience of about 20 at the regular board meeting held Monday, Sept. 19, at Clearwater Valley High School's library.
Lot Smith, zone 1, Grangeville, thanked Idaho County Undersheriff Jim Gorges – who, along with Sheriff Doug Giddings and Grangeville Police Chief Morgan Drew were in attendance – for his recent letter in the Free Press.
"Your comments were very thoughtful," Smith told him.
Superintendent Kent Stokes spoke out saying he knows there are patrons who pack guns.
"I do not believe kids in our schools are carrying weapons, but patrons do," he said. He did add without a metal detector or pat-down there is no way to tell for certain.
Dominguez said he knows of three people who carried guns at a recent CV football game.
"I think it would be a disservice to those we represent to not have a policy in effect," he added.
Although Chief Drew said he had not yet read the entire policy, he feels a firearm "can be another tool in the toolbox."
Sheriff Giddings said he is definitely in favor of a written policy for the protection of all.
"We don't usually have fires – but we still have alarms and fire escape routes," he said. "It just makes sense."
MVSD attorney Adam Green said he has reviewed the policy and agrees with the statements of law enforcement officers.
"The board has the ability – and maybe even the responsibility – to set its own policy," he said.
New board member Jeremy Harris, zone 5, Grangeville, said he is eager to hear from teachers and staff.
"Are we making sure we take preventative measures first? Are we locking all our doors? Have we talked about bringing in resource officers?" he questioned.
Those measure are in place, he was assured. However, Giddings' next comment hung in the room:
"The problem is, it's very difficult to prepare for crazy," he stated.
CV teacher and Idaho Education Association President Char McKinney explained a survey was going out by e-mail to all employees of MVSD 244.
"I will bring those results to the next board meeting so you can have an idea of how the staff feels," she said.
Board member Casey Smith of Clearwater, zone 2, asked for an example of questions and McKinney read a variety of questions regarding weapons in schools and the possibility of teachers or designated staff being armed.
"I really would like to make sure we have thought about preventative measures along with a policy," Katrena Hauger, Grangeville Elementary Middle School teacher and athletic director spoke out. She had questions about staff care following a possible incident and how to make children feel safe. "The perception is when this policy passes, certain staff will be armed."
Dominguez expressed some frustration with this thought.
"That has been misunderstood. I want a policy in place so if it ever comes to a time where we do have to arm a teacher or administrator then we can do it without spending six months figuring out a policy first," he said.
"If there's not a policy we have nothing," Smith said. "A policy protects everyone."
Giddings agreed.
"A policy give us [law enforcement] some teeth. We would have something to fall back on and something written to enforce."