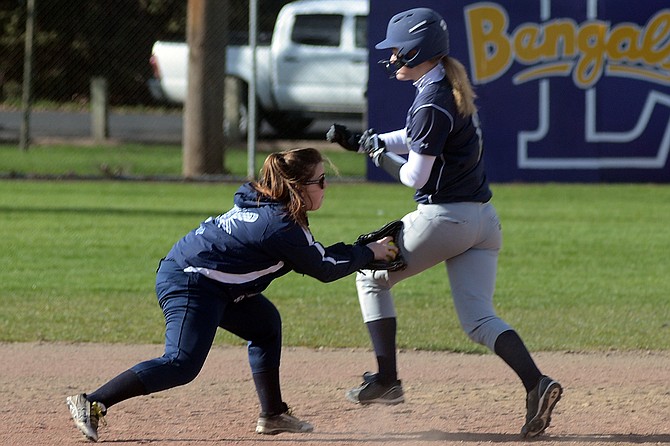 Photo by Andrew Ottoson
Grangeville's senior at second base, Paige Cook, made the play tagging out Genesee's Tessa Renton on a ground ball April 4.
LEWISTON — Much of Grangeville's early softball slate was pushed around by spring weather, but a mostly-clear sky allowed the Bulldogs to take the field at Airport Park against Genesee on Monday, April 4.
Genesee tallied 12 runs in the first inning and won by an 18-3 final score, in what was just Grangeville's third game of the season.
Grangeville had cancelled three of the five contests scheduled before spring break, but with the holiday out of the way, GHS now has matchups slated on the road at Kendrick on April 5 and at Kamiah on April 6.
Then Grangeville is scheduled to host three consecutive home games: vs. Orofino on April 10, vs. Orofino on April 13, and vs. St. Maries on April 15.
•
Elsewhere in the county, Kamiah is scheduled to host Orofino JV on April 7 and visit Lapwai for an April 11 double-header.
Prairie is off this week and is slated to return to action April 12 against Culdesac.