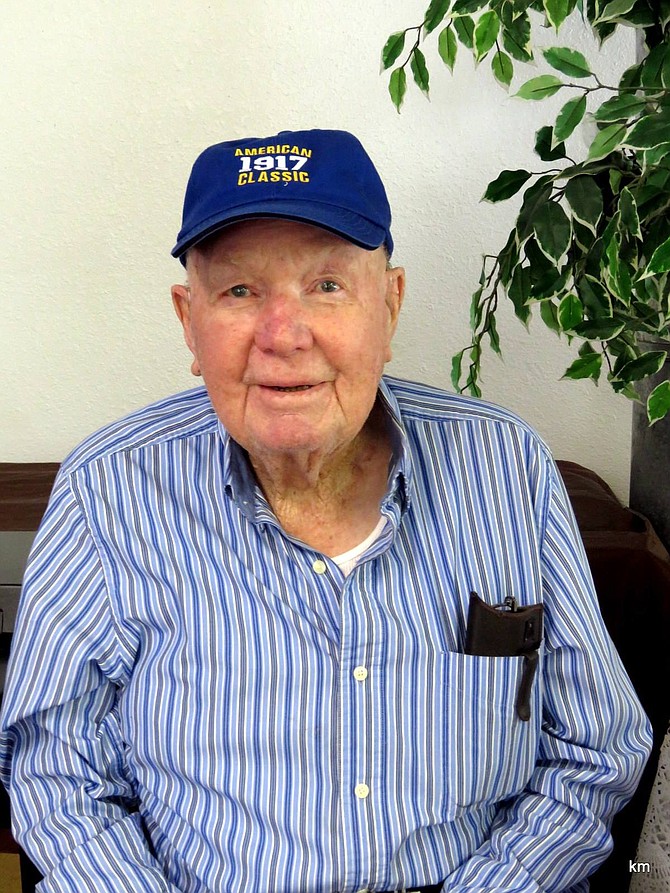 RIGGINS — Lee Simonson of Riggins, is 100 years young today, Wednesday, April 5. Lee was honored at a gala celebration Sunday at his church, the Salmon River Community Church, with family and friends…he received more than 100 cards! The Riggins Elementary students made 100 cards for Lee in addition to those he received on Sunday. It is not often we have the opportunity to share in the celebration of a friend who has reached his 100th birthday.
Bingo, sponsored by the Riggins Senior Citizens for funds for their programs, is set for tonight, Wednesday, April 5 at 6:30 p.m. for adults 18 years and older downstairs at the Riggins Community Center located behind the Gem Stop Chevron Station. Water, snacks, and lots of fun await you! Hope to see you there.
The annual Riggins Easter Egg hunt will be held at the Riggins Elementary School playground Saturday, April 15th at noon. Divisions will be baby-two year olds; three year olds-kindergarten; 1st-2nd graders; and 3rd and 4th graders. There will be the famous Gold Egg, Silver Egg, and Big $5 egg winner in each division. Each child participating will receive 50 cents in addition to candy, prizes, and money in the eggs. Please donate your plastic eggs back to the PTO; they will have plastic bags available. Bring your friends and cousins…there are always lots of Easter Eggs to go around
The annual White Bird Easter Egg Hunt will be held Saturday, April 15, at 10 a.m. at the White Bird Rec District (the old school grounds) for all kiddos ages baby-12 years old. Hot dogs will be available after the hunt.
The Salmon River Community Church will hold its Easter Sunrise Service Sunday April 16 at 8 a.m., MST, outside at the Steelhead Inn, 14 miles north of Riggins. Easter breakfast will follow with Mcmuffins, fruit, coffee, tea, and juice. There will also be an Easter Service at 11 a.m. at the church followed by a potluck Easter dinner in the fellowship room. Everyone is invited to attend either or both services.
Riggins Assembly of God Church will serve Easter Breakfast at 8 a.m. in their fellowship hall followed by Sunday School at 9:30, and Easter Service at 10:45.  Everyone is welcome to attend any or all of these Easter activities.   
The full Pink Moon will appear in the night sky this coming Tuesday, April 11. Plan to spend some night sky watching…you will be glad you did.
The 33rd annual Jet Boat Races and activities will be held Friday, Saturday and Sunday April 14-16, sponsored by the Salmon River Jet Boat Committee. Race teams from Canada and the United States will be competing not only for cash prize awards but bragging rights for racing the famous "River of No Return" and having raced the most exciting and longest running river jet boat race in the U.S.A.! Race Class sponsors are Rogers Toyota, American Turbine, Salmon Rapids Lodge, and Salmon River Helicopter.  
Friday, April 14, will feature the Show & Shine "Boat Show" & Welcome BBQ open to the public starting at 6 p.m. on the Salmon Rapids Motel grounds; $10 for adults, $5 for kids 5 and older, under 5 free. Cookies or bar cookies are needed for dessert for the BBQ. Please make and take your cookies to the Salmon Rapids Lodge between 4-5 p.m.; BBQ is 6-8 p.m.
Saturday, April 15, will find jet boaters racing all day on the Salmon River, "River of No Return," beginning at 10 a.m., MST, with two laps or one turnaround followed by a break until one, then four laps or two turnarounds. Fireworks display will begin at dusk at the Riggins City Park.  
Sunday morning, April 16, the races will begin at 10 a.m. with four laps or two turnarounds. Awards ceremony and banquet will be held at Salmon River Inn Sunday afternoon after the race has been completed.  
The Riggins Fiddlers will present another great music program Tuesday, April 18, 7 p.m., at the Salmon River Community Church fellowship room. Refreshments are served at the end of the program mixed with great visiting…the time together is priceless. There is plenty of parking, so come on in for your musical enjoyment.
Color the Canyon 5K 2017, sponsored by the Riggins PTO, will be held Saturday, April 22, beginning at the Riggins Elementary School. Early fees were turned in last week; fees are now $25/adult and $15 youth with no guarantee of T-shirt or color dust as the order went in March 26. There will be prizes for most spirit, most color, and best color station. Race starts at 10 a.m. Register at www.ultrasignup.com/colorthecanyon5k.  The committee is looking for some volunteers for the color stations; contact Jacki Campbell if you would be able to help. Our volunteers are much appreciated; without them this race would not be possible. Contact Hannah McClure at 469-0499 or Karen Akins at 628-4101 for information. 
Hikin' for Healthy Hooters, Walk for the Cancer Cure, will be held Saturday, May 20, at a new location…Miners Supply…located at the north end of Pollock Road. The walk/run/jog will be run the same as in past years with the same delicious hamburgers as the end of the hike. There will be silent bidding items as well as the annual quilt raffle.  More info is forthcoming. 
The Pinehurst Quilters will be raffling the king-sized Cancer Walk Quilt that is currently displayed at the Pine Tree Credit Union. Tickets are $5 each and are available at Pine Tree Credit Union, Idaho Banana Co, Tourist Trap, and from members of the Quilters Club. For info, Nightfeather, 628-3633, or Patty Solberg, 628-2394.
Mark and Sarah Christensen and baby girl will be honored at a baby shower Saturday, April 29, at 4 p.m. at the Salmon River Inn with cake and punch. Family and friends are invited to help them welcome their new baby daughter; it's a family thing…hubby and kiddos are invited, too. Guests are welcome to order pizza and soda, if they wish.  
The Salmon River Community Church will hold its annual Memorial Day Yard Sale Friday and Saturday, May 27-28. If you have items you would like to donate, call Pastor Jim; he or someone will pick up items…or you can drop items off at the back door of the church. All donations will go toward building a house for a family in Mexico. The people going to Mexico will be raising their own money for the trip.