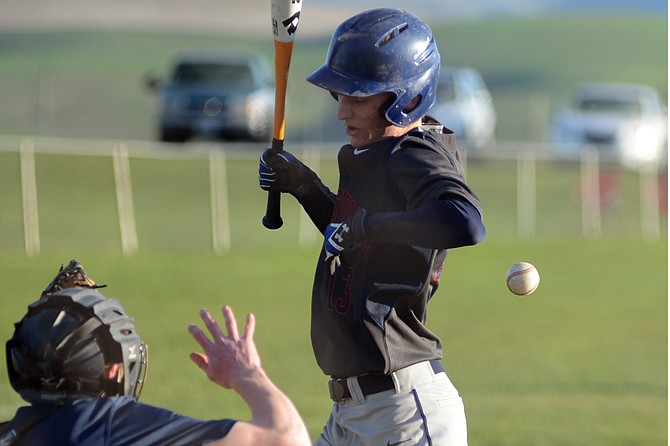 Photo by Andrew Ottoson
Grangeville junior Tyler Stephens played brilliantly in a 10-3 win over Genesee Monday night, April 3, but couldn't avoid being pelted in the ribcage late in the game.
LEWISTON — They have the same mascot, and for six innings Monday night, April 3, the Grangeville and Genesee baseball teams had something else in common: three runs apiece.
The better Bulldogs broke the tie when Genesee's pitching melted down in a run of walks, bean-balls and timely hits, leaving Grangeville ahead 10-3 with a half-inning left to play.
Grangeville junior starting pitcher and clean-up hitter Tyler Stephens threw mostly strikes during his three innings of work. The same could not be said of Genesee's relief pitching, which plunked Stephens right between the shoulder blades when he stepped to the plate as the 10th Grangeviller to bat in the seventh inning.
Junior Easton McEwen followed with a two-run single, which plated the last runs of the game.
Earlier in the contest, Grangeville struck first when sophomore Chase Adkison led off with a single and advanced to second as the Genesee outfielder misplayed it. Adkison stole third — one of his three steals in the contest — and scored on Stephens' one-out single.
Genesee leveled the score in the second inning, with a sacrifice fly punishing an inning-opening error — Grangeville's only major fielding mistake.
Grangeville regained the lead, 2-1, with Adkison drawing a walk and stealing second and third to score on senior second baseman Tristan Roberts' sacrifice fly.
Genesee struck back with a single run in the third and another in the fourth, to lead 3-2 starting the fifth.
Roberts led off with a single and scored as Stephens and McEwen followed with hits.
Adkison pitched the rest of the game for Grangeville, and booked eight consecutive outs to end the game. Adkison struck out four of the batters he faced.
"We woke up the bats today," Grangeville coach Lee Nadiger said. "We pitched well, with three guys throwing a lot of strikes, and except for one mishap, we played pretty good defense. Mainly, we had good pitching. Tyler had a very good game. He pitched well and had three hits. Pitching has been a strength for us so far, and it has to be. We have a lot of games coming up."
Coming — Grangeville (2-5) has games scheduled at Kendrick on April 6, against McCall-Donnelly on April 7, at Parma on April 8, and then — field conditions permitting — a run of four home games.
Grangeville had been scheduled to host McCall, but will instead play the Vandals at Clearwater Valley because the GHS field continues to be unplayably wet.
If they go off as scheduled, GHS will host Orofino on April 10 and again on April 13, then will host Prairie April 14 and St. Maries on April 15.