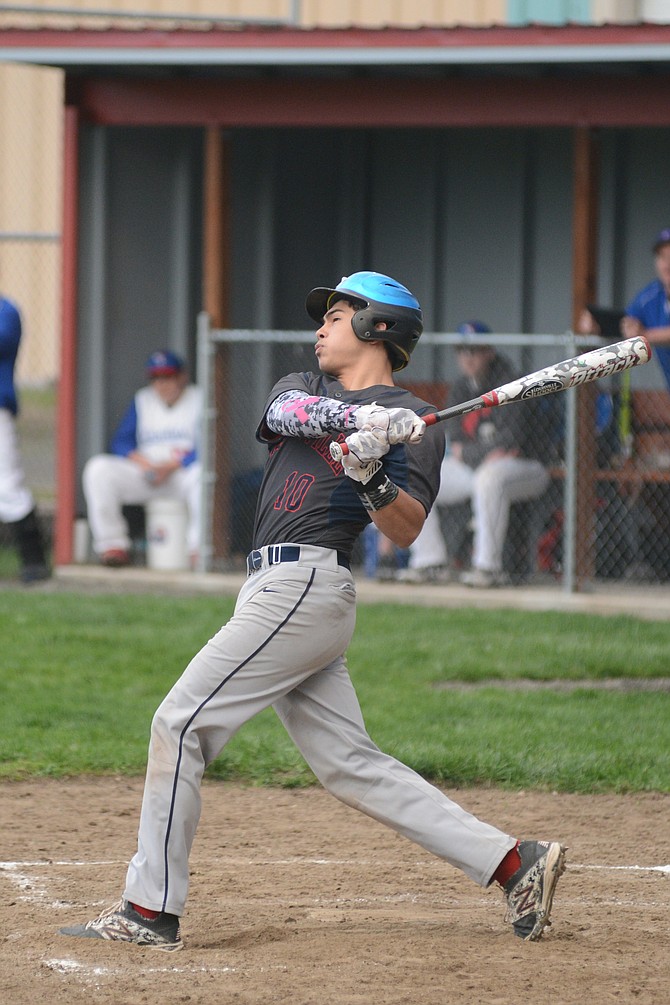 Photo by Andrew Ottoson
Grangeville sophomore Chase Adkison hit his fourth and fifth home runs of the season last Friday night, April 7, against McCall. Originally scheduled as a home game, the contest was played in Kooskia due to field conditions. GHS has league games slated at Orofino Thursday, April 13, and at CVHS against St. Maries on Saturday, April 15. A contest previously slated April 14 at Prairie will be played April 21.
KOOSKIA — Sophomore standout Chase Adkison hit his fifth home run of the season about an hour after he hit his fourth, which doubled as his second grand slam this spring. Between those two bombs, Grangeville beat McCall by mercy rule, 15-2, last Friday night, April 7.
Facing a 6 a.m. departure for a Saturday double-header at Parma, coach Lee Nadiger was glad the game ended early.
The Bulldogs won the first game against Parma 13-7 on the strength of 14 hits and strong pitching from junior Tyler Stephens and sophomore Hunter Schoo, but faded at the finish when the late game went to extra innings. Parma snapped a 9-9 tie to win the nightcap 10-9 in eight innings.
Stephens notched seven hits in the three games, as did Adkison, who hit a triple and a double in addition to the home runs.
Coming — Grangeville (5-6) has league games at Orofino Thursday and, due to the GHS home field's unplayability, Saturday against St. Maries at Kooskia.