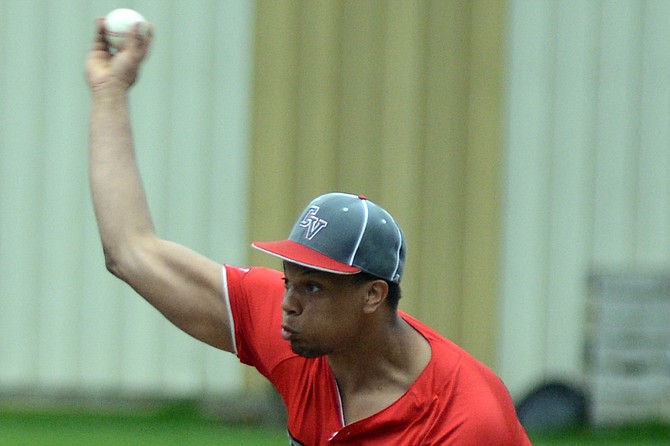 Photo by Andrew Ottoson
Clearwater Valley's Keiran Owens worked a clean top of the seventh last Friday, April 7, against McCall-Donnelly, then scored the winning run.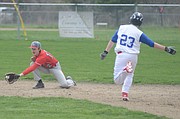 KOOSKIA — Leading up to spring break, Clearwater Valley's baseball season hadn't gone as well as coach Josh Bradley had hoped, but with wins over Kendrick and McCall last week and a slew of Whitepine League games on the slate this week, the Rams have stopped skidding and are looking to accelerate up the WPL table.
Beating Kendrick 11-5 last Wednesday, April 5, marked CV's first win of the season and the Rams followed up with a 4-3 win over the Vandals last Friday, April 7.
Senior Keiran Owens pitched late in both games, relieving senior Mitch Morrow in the sixth inning against Kendrick and relieving Zack Krieger in the seventh against McCall.
With the game tied at 3-3 in the bottom of the seventh against McCall, Owens led off and reached base. With help from a single by Morrow — one of Morrow's four hits on the afternoon — Owens advanced to third.
When Evan Jackson poked a grounder past McCall's shortstop, Owens scored the winning run.
It was the third run Owens had scored, with Morrow having driven him in during the third inning.
During the bottom of the first, Owens worked a two-out walk, advanced on a hit by Krieger and scored on Morrow's two-run flare down the right field line.
The Rams hit the ball even harder earlier in the week against Kendrick, with Krieger and Morrow delivering clutch hits and Ty Dominguez posting a three-for-four with a walk and an RBI.
Bradley praised his team's play and noted the squad's 11-run outburst against the Tigers is more in line with the performance the Rams will need to climb the league standings.
"You're just not going to win very many games by scoring two or three runs," he said after the win over McCall, and he pointed out that while the pitchers and defense had a good day against the Vandals, the offense stranded far more runners than he'd like.
Grangeville beat CV 10-3 on April 4, and the Rams played at Nezperce after the print deadline on April 11.
Coming — Clearwater Valley (2-5, 1-2 WPL) have league games against Troy on April 13 and against Kendrick on April 14.