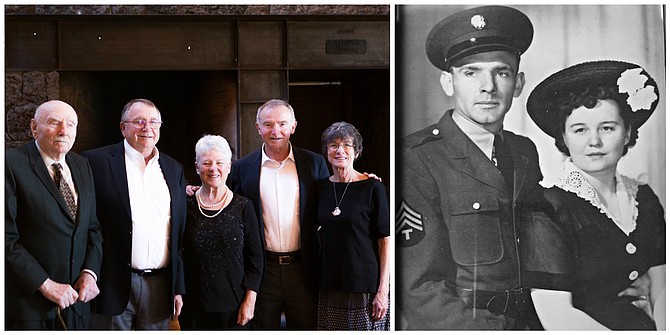 GRANGEVILLE — Andrew Riener is quick to give credit when it comes to the question, "What's the secret to a successful life?"
"The Lord's help," he smiled. "There have been some close calls along the way, but He's kept me safe."
Riener celebrated his 100th birthday with family and friends April 15.
Andrew Joseph Riener was born Feb. 9, 1917, on a farm near Greencreek. His family moved to a farm near Ferdinand where he grew up, attending school in the one-room schoolhouse a mile and a half from his home.
"No. 71 school," Riener recalled. "All 12 grades." He grew up with six brothers; two additional brothers died in infancy.
Although he was raised on the farm working hard and watched his father farm with draft horses, he knew farming was not going to be his forte.
"I just wasn't popular with animals," he smiled.
In 1937 he attended mechanics school by correspondence then went on to Los Angeles to finish his coursework for several months.
"Other than traveling to Kansas [to see relatives] when I was a baby, this was my first trip out of Idaho," he said. "It was a good experience and I went everywhere by bicycle."
He also saw the countryside via commuter trains and was able to attend a USC-Notre Dame football game and the New Year's Day parade.
Upon returning to Idaho County, he worked for Vanderwall's Vehicle Repair and later for John Hoene Implement Company.
He met his wife, Evelyn Dale Cash, in 1940, at dinner at a friend's home. She grew up in Happy Hollow just outside of Grangeville.
"It was actually Hank Vanderwall and his wife who wanted us to meet," he smiled. "It was a pretty good deal."
He continued to work and the two got to know each other.
"Then I got my letter from Uncle Sam," Riener said.
Riener served in the U.S. Army from February 1942 through October 1945. He spent time in Hawaii where he earned "five bucks a month," he recalled, shaking his head.
He trained for the anti-aircraft and "watched for planes until my eyes practically fell out," he said.
He spent time in Riverside, Calif., and was given two weeks off in 1943 and returned home to Greencreek where he and Evelyn were married April 10.
It was a short honeymoon as he returned to the Army to "hurry up and wait."
"There's a lot of waiting in the military," he said.
Riener said they had been told they would be going to Africa, but ended up on a boat to England, then went into France and later Austria, experiencing fighting and many wartime experiences along the way. He was discharged Oct. 31, 1945.
When he returned home he was able to pick up with his job and was also welcomed home by a baby son.
"I found out later Mike was born early after my wife fell at her parents' up at Happy Hollow," Riener said. "I had received letters about his birth, but I wasn't thinking about the dates and Evelyn didn't want to worry me."
During a real estate depression, Riener's father purchased a home in Grangeville (behind the Norco parking lot and close to Asker's Harvest Foods) where Andrew, Evelyn and Mike moved to. All these years later, Riener is still in that home.
"He bought it for $7,500 and we've been here ever since," he said.
The couple added another son, Ken, and a daughter, Kathy, to their family. Evelyn was able to take advantage of a nursing course in Grangeville and earned her LPN in 1969, working at Syringa Hospital.
Upon retirement in 1981, the couple moved to Bend, Ore., for 10 years where they helped Kathy care for her two daughters.
"They were an amazing blessing in my girls' life, and ours as well, and made such a difference in our lives," Kathy said.
It was in Bend in 1987 that Riener had a heart attack and quadruple bypass surgery. For the next 20 years he walked four miles a day, keeping the promise to his doctor he would exercise.
The couple was married for 71 years when Evelyn died in November 2014. Since that time, Riener spends his time between Grangeville and Bend and sees all his children often. He has three grandchildren, three bonus grandchildren and four bonus great-grandchildren.
"Yes, there have been several instances where I was in the right place at the right time," he said. "The Lord has kept me."